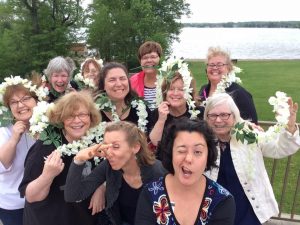 Perhaps "family friendly" should have been a clue. Perhaps it was and I chose to ignore it. Kids stay free… Great site for family reunions… Something for everyone.
That last part is true unless of course, you're a struggling writer looking for a quiet place to replenish your soul with meaningful words that flow easily onto the page.
Instead, I found myself dodging dripping ice cream cones, shrieking to the peals of children laughing and crying, and overdosing on constant parental warnings.
"Stay on the red floor Molly."
"No, you can't eat that sweetie."
"Stop hitting your brother."
"Slow down big guy…"
The clickety clack of wooden toy wheels on the tile floor, grandmothers cooing over little babies, and a bridal party celebrating all added to the setting.
At least the Mennonites were quiet.
I suggested the Potawatomi Inn at one of Indiana's state parks for our first informal writing retreat – a gathering for eleven of us who wanted to practice our craft. It's my favorite park and I love to be surrounded and inspired by nature, especially in these spring days of new growth. I knew it had many public areas and a lovely patio overlooking the lake where we could gather. However, heavy skies littered the lawn with rain most of the time which kept everyone indoors. Every infant. Every toddler. Every eight-year old. Every grandparent saying "Huh? What did you say?"
I spent most of my time in my room, as did the other writers who came from Georgia, Kentucky, Ohio and Michigan. Ironically, no one from Indiana. While my friends boasted of lake views, my two windows overlooked a flat roof that housed the park's tv satellite dishes. It didn't matter that I couldn't reach the drapes to close on one window. Actually, it kept me focused on what I was there to do.
It really was a lovely weekend and I enjoyed meeting several new friends in addition to the four I knew. All of these women have serious writing chops. Was it the peaceful refuge I was seeking? Not when I used one of the common areas for a change of scenery, but that's okay. It's a joy in hearing families spending time together.
Someone has already suggested Nashville as our next location, and I let out a loud hee-haw. I'll be ready to make my own noise at one of the honky-tonks, and then write all about that. Hence, the Part 1 in the title of this post.