It's hard for me to call myself a writer, because as soon as I do, the first question someone asks is "What have you written? Would I know it?" So instead, I still refer to myself as a lover of life who likes to write; who likes to capture ideas on paper.
"But why?" is the next question. Because it's a creative outlet, that allows me to connect with other people to inform, enlighten, and occasionally entertain, with an added bonus – its therapeutic value for me. And because my sister, the genealogist, has stressed the value of written histories. So for my nieces and nephews and their children, and their children, and their children, and so on, my story will be found in the pages of my blog, and they will know more about me than they ever bargained for.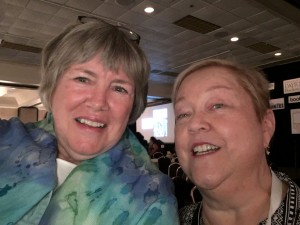 Last week, I celebrated my love of writing with 350 people at the Erma Bombeck Writing Workshop which happens every other year because we could not possibly process and implement all that we learn in a single year. Eight workshops, five keynote speakers, one dynamic stand-up comedy show, and seven meals later, I have returned with new friends from coast to coast. And my head is swimming.
If you followed my blog last week, you'll know my goal was to be less of a wallflower than two years ago. Did it work? Absolutely, and instead of needing three hands that told me to listen, stop interrupting and lay off the stories (I've been known to wax-on at length when a yes or no is sufficient), I only needed to focus on the first – listening. If you do that, you have one hand left over to eat the cheesecake that was at every meal – or at least seemed that way.
So what did I take away? Lots of stuff that has little to do with writing and more to do with living. Let me share –
You don't have to be 21 to have your whole life ahead of you.
There is not a finite amount of joy in this world.
If it's not fun, move on.
Figure out what you want to let go of, then what you really want to keep.
Agenda free friends are the best kind of friends.
Pursuing your passion is a lot better than living with regret.
Of course I learned about setting the scene, strengthening your imagination, controlling your descriptions, the art of writing a novel, character development – all of those writing goodies, and so much more.
But the most important for all of us attending – if you want to write, then "get your ass in the seat and write," so no more from me today – time to wrap this post up. While I'm sitting down and at the table, I need to focus on the book I'm writing. Yes, no more telling people I'm writing a book, it's time to actually put my fingers to the keys and finish the darn thing. And when I'm done, it will be much easier to say "Yes, indeed, I am a writer. And this is how you can buy my book."