Yesterday, we took a delightful drive to Park City, Utah. I was looking forward to the beautiful scenery, the main street filled with cutesy shops, and a nice lunch along the way.
Then Heidi, a mutual friend, sent the text.  "Check out the bobsled."
Kathy (the athlete, as excited as can be): "Let's do the bobsled? Do you want to? Really, it will be so much fun? Want to? Let's do it!"
Pam (assuming the bobsled was nothing much more than a tricked out county fair ride constructed with tourists of all shapes, sizes, ages and heart conditions in mind): "Sure."
Now frankly, I'd forgotten this was the site of the 2002 Winter Olympics, but as soon as we saw the ski jump hills, Kathy took a sharp right and we were off and climbing on our way to the training facility, and yes, the bobsled.
We walked up the slight hill to the Visitor's Center, and I kept looking around for the makeshift bobsled course, but could only see the competitive course.
Perhaps I should have done a little research. Straight from the website: "The signature Comet Bobsled ride is Utah Olympic Park's defining activity. With a seasoned bobsled pilot, experience the official 2002 Olympic Sliding Track including speeds over 60 mph and notable g-forces. We challenge you to count all the curves as you take this amazing ride. The summer bobsled is a built on wheels and runs on the concrete track." The "legally binding" waiver followed.
"You'll take the chair lift to the top…" I don't know what else the guy at the information desk said. There will never be a chair lift taking me to the top of any mountain so I can experience notable g-forces, in any shape or form, on my way down.
Kathy was still game, but she could tell by my face that had gone absent of color, there would be no bobsled for me, because there would be no chair lift for me. Though I was comforted to see the helicopter pad for medical emergencies, I was not confident they could assemble the necessary mental health team to help manage my anxiety attack should I choose to pursue this.
I encouraged Kathy to head up and out, as I would have been happy in the car reading my book, but the $75 ticket price was just too high, and she opted not to.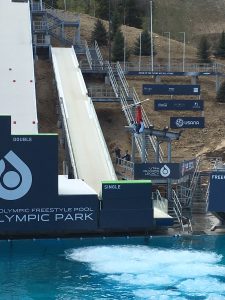 We enjoyed a walk around the area and marveled as we watched a skier practice jumps and spins, landing in a pool. I was surprised to see it was a young woman who was kind enough to speak with me afterwards. Morgan Northrop, 22, was a high school gymnast in Virginia when she was recruited into this sport of aerial skiing that "features some of the most innovative events and highest-flying tricks in the world." And I thought the bobsled was bad!
Anxiety grips every one of us differently. I would have liked to have done the bobsled because I knew Kathy was excited, but heights and I are not friends.
So what causes you face color draining anxiety? And how do you conquer it? I'd love to hear from you.
(I believe the problems in commenting on my blog have been repaired. Sorry for the problems for those who been frustrated by this.)