It was a dream of epic proportions that lasted about three years. Not the kind of dream that crept into my subconscious during a deep sleep, but rather, a fire in my belly that beckoned "I wonder if…" This was a dream that was fueled by outdoor living magazines in my dentist's waiting room; it caused me to have flare ups in meetings and lose focus, and it was fanned by stories of people I know who have turned their worlds into lives of wonder and discovery from the comfort of their swivel seats behind the dashboard of their homes on wheels.
My dream wouldn't go away.
I even gave us names – The Wandering Whack-a-Doodles; I'd be Wanda and Kathy was Willa Mae. We started by researching Road Treks and converted vans; we found ourselves talking to a salesman at a huge RV dealership; we broke up a tailgating party, asking the host if we could look inside his rig.
The fire of a dream was still burning.
Two 60 something women, barely a lick of camping experience between us, exploring the country in an RV, car towed behind. I was ready to start collecting lint for the fire starters I was going to make; and I was confident I could still cook eggs and sausage in a brown paper bag over an open fire. What else did we need to know? This fire was about to wreak havoc when finally, rescue in the form of budget and good sense doused the dream.
Willa Mae and her cousin, John.
And then John and Carol came for a visit. In their 40 foot Motor Home, jeep cozied up to the hitch. And we learned about cargo space vs. cargo capacity, and 30 amp service compared to 50 amp, and gray water and black water, and a new community of close friends. The embers were stoked.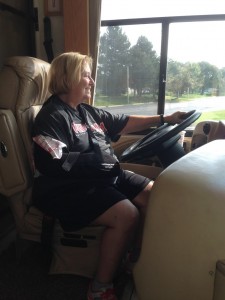 Willa Mae checking out the view.
John and Carol are what the industry calls "full timers". Five years ago, they sold their house and all of the possessions that wouldn't fit in their new lifestyle, and they are living their dream, with no end date.
"We didn't know what our early retirement would look like, and then we met some full timers," said Carol. "We had never even heard of full timers, but we'd always camped, and I turned to John and said, 'we can do this'."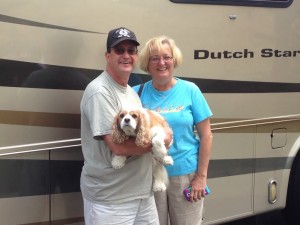 Even Jimmy loves the traveling life.
It took her two years and a good financial planner to convince John, and then another three years for the two of them to plan and get to retirement, and they've never looked back since. About half of their time, they've work camped for several months at a site. In a week, they'll return to Ding Darling National Wildlife Refuge on Sanibel Island, Florida, for the third winter, where Carol will volunteer in the office, and deliver an
i

nterpretive program
on manatees and alligators three days a week, and John will support the grounds team. Their other favorite work assignments have been in the Grand Tetons in Wyoming, and at White Sands National Monument in New Mexico.
The dream of RVing for the Whack-a-Doodles is barely a smolder, but it's made me ask, what would I be willing to give up to chase my dream? But perhaps the better question to ask is what can I gain by living my dream?
I think it's safe to say Wanda and Willa Mae will find other means to explore, but what about you? Is there something you REALLY want to do and if so, what's stopping you? What would it take for that fire to burn in your belly enough for you to act on it? It may be a single event, it may be a lifestyle change.
This I do know. If it's well planned, if the benefits are considered as much as the risks, if you invest in educating yourself about the process, you will be richly rewarded, and you will no longer wake up and say "I wonder if…"