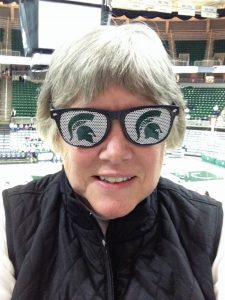 Like many others, I am near the end of March Madness. Four weekends of continuous college basketball for both men and women that will culminate in the NCAA Final Four tournaments next weekend. I explained this piece of American culture to my international student friends, and watched them nod their heads and say "ahhh" as if they got it. I knew they didn't.
Casual fans become fully invested in the games. We root for archrivals when our team gets bounced. We talk about players and coaches as if they're family members. We skip work, put other plans on hold, and don't schedule anything until we check the game schedule. This year has been no different, but throughout the process, I've noted the take-aways we can steal that apply to all of us in real life. So here you go, my March Madness lessons:
It doesn't matter what you wear. When Michigan didn't have access to their uniforms (see #9) for the conference tournament, it didn't matter. They came out blazing in their practice uniforms. I need to remember this more often.
Ignore what others say about you. People may say you're the best, or they may say you're the worst and don't deserve to be there. Let your actions do your talking.
Don't quit or give up. Ever.
Selfishness doesn't win. The teams that pass the ball the best and star players that sacrifice a shot for another player with a better view always win.
Embrace the moment. There are no second chances in this tournament. There are few second chances in life, but we never get today again.
The call is not always going to go your way. The sooner young people learn this, the better off they'll be with relationships, at work, and in life.
There's always a chance for the underdog. Everyone expects the North Carolina's, Duke's and Kentucky's to win, so when Middle Tennessee, Northwestern and Xavier pull out upsets, it's easy to find a new team to cheer for.
It's all about family. Whether your mother is a famous actress (Charlie Hall for Northwestern) or your guardian saved you from a life of homelessness at age 13 (Purdue's Caleb Swanigan) there's an abundance of feel-good family stories. This year, I've especially enjoyed those about college playing brother-sister duos like the Coffey's (Minnesota and N'western) and the Dozier's (South Carolina).
You have options when your plane skids off the runway. This is the mother of all stories and lessons this season when the University of Michigan's team faced greater obstacles than a basketball game. After this happened, the coach gave the players the choice if they wanted to proceed or forfeit in the Big 10 tourney. Did you know their best player didn't want to continue? He was not ready to get back on a plane the next day.  What made the difference? The team voted and said, let's play on. When you're part of a team, and you care about each other and support each other, you can endure. They won the Big 10 tournament and their first three games of the NCAA.
And the last lesson – It's great to have a diversion every now and then. Oh sure, I kept my eyes on the issues in DC, but man, it was sweet to take a break from the politics that have suffocated our evening news for months and months.
I'm not sure who will win their respective tournaments next week and don't particularly care. All of my teams are out, but will I be watching? You bet. I may even learn more lessons.