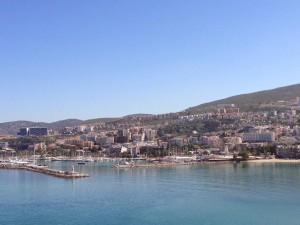 One of the greatest benefits of traveling is the opportunity to dispel stereotypes and misplaced notions about people or areas. That is exactly what happened to me in Turkey. I certainly wasn't expecting camels and donkeys, but I also wasn't expecting the large harbor filled with pleasure boats as we sailed into Kusadasi, a beautiful modern port city of 110,000 that was our gateway to Ephesus.
We opted for a four hour bus tour of Ephesus that gave us the highlights, but not time to go exploring to see some of the ruins up close and personal. Ephesus was a key city during Biblical days and if my Biblical knowledge (and help from the internet) is correct, Paul stayed in Ephesus and preached to the people until they accepted the word of the Lord. Remember, this was during the days when wizards, witches, astrologers and palm readers were some of the local spiritual advisers. Ephesus was also the last home of the Virgin Mary and though we did not see the remains of her house, we did stop at a statue in her honor.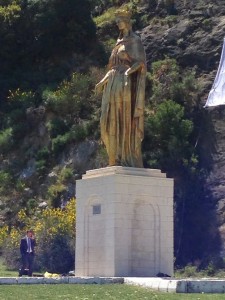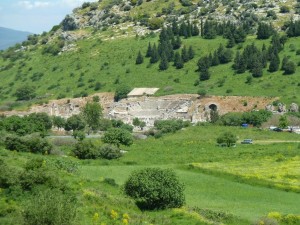 It did overwhelm me a bit to know I was in the same location, perhaps on the same road that Paul traveled to spread Christianity, 2000 years earlier, with ruins still preserved from that time.
One of the structures we passed was the great theater of Ephesus which was built somewhere between A.D. 50 and A.D. 117. This massive structure seats an estimated 25,000 people. Set back from a main two-lane highway nestled amongst fruit trees, it was also used as recently as the 1990's for rock concerts with acts including Elton John, Ray Charles, Diana Ross, Bryan Adams and Jethro Tull. Jethro Tull at the Ephesus Theater? How awful. But it was the fans of Sting that caused so much destruction at a concert in 1993, that concerts have been stopped there. I was really saddened as we drove by to learn of the concert use, but we'd seen it at the Coliseum in Rome and would also see it at the Acropolis in Athens.
Another highlight of this stop was the purchase to two carpets (who I am kidding, they are really small area rugs but when they cost this much, they are referred to as "carpets"). After a lesson learning how to differentiate between silk, wool, and silk/ cotton carpets, we decided to make the plunge and I have to admit, the back and forth negotiating was fun. I was happy with the price, and will be happier when they arrive.
Our next stop in Turkey was Istanbul, a city of 15 million with sections in both Europe and Asia, the only city that straddles both continents. Unlike most of the other people on the ship, we did not take a tour or taxi, but had studied the tra
m system before we left. So from the ship, we hiked a bit until we found the stop, figured out the ticket machine and made our way happily to the stop closest to the famous Blue Mosque, the second largest mosque in the world, and named because of the blue tiles found inside.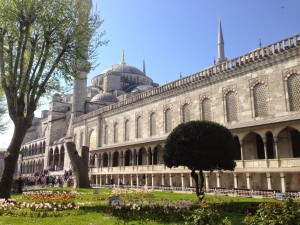 After a relatively short wait (45 minutes), we donned our head coverings, removed our shoes and entered this place of worship. A fabulous structure built in the early 1600's, and still used today as was evidenced by the men and the women (in their separate section), praying.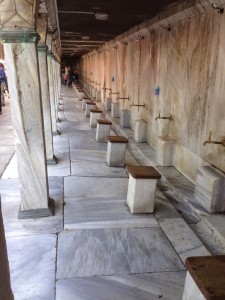 Feet washing stations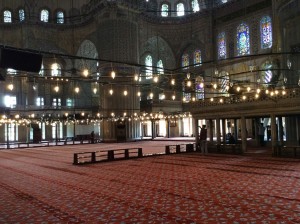 Inside the Blue Mosque
Istanbul is one of the reasons I wanted to take this trip, as I love big city markets and the Grand Bazaar is one of the world's oldest and largest, and the only covered market I've visited. I've been to the Chatuchak Weekend Market in Bangkok, and the Namdaemun Market in Seoul, and I just had to see how the Grand Bazaar compared. I was not disappointed. Beautiful merchandise in the 3000 stores (trust me, we only visited a sliver of these), well lit streets and we were never "hounded" by the vendors in any manner that made us uncomfortable. Carpets, leather goods, lots of gold and silver, pashminas and scarves, pottery and other gift ware. I was happy, happy. Our lone purchase – two silk scarves.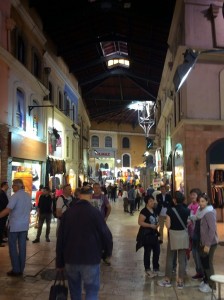 From there, we walked to the Spice Market, and seemed to leave most of the other tourists behind as we walked the few blocks shoulder to shoulder with locals making their weekend purchases. It was easy for me to understand why Turkey is having a bit of a cultural conflict, not with the Kurds in the eastern part of the country, but rather as western traditions become more popular, especially with women. Store after store featured evening gowns that would be considered revealing by anyone's standards – strapless with cut outs and high slits, accentuated with sequins and jewels, but many of the women we passed in the street still wear a hijab with face veil and long cloak. I wondered how the two styles exist harmoniously within a country that is 98% Muslim.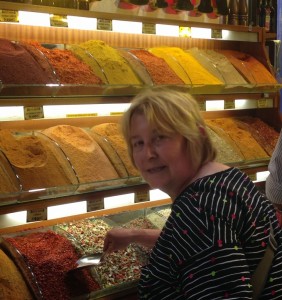 Once we arrived at the Spice Market, we strolled up and down the main aisle until we came upon the shop we wanted to buy from. I won't say I got caught up in the moment, but when is the last time you made meatballs? I can't remember either, yet I found myself purchasing Ottoman meatball spice mix. How that's different from the "meat" spice mix I bought, I'm not quite sure. Then I got so excited when I found the bin with red, white, green and black peppercorns, that I completely ignored Kathy when she reminded me that the grocery at home has the same stuff. Yep, a McCormick bottle sits in my pantry. Now I have more.
Our visit to Turkey was fun, but I would never advise a first time traveler to visit there. Signage is more sparse than other countries, English is less available, it's just generally harder to get around, and you can feel the closeness of 15 million other people. At the end of our visit, we enjoyed a Turkish pizza before we hopped back on the tram and found our way back to the ship. Later that evening, we learned that the dreadful traffic prevented the tours from seeing all of the sights, and some were stuck in jams that lasted hours. Moral of the story – stick with Pam and Kathy if you want an adventure with added efficiency!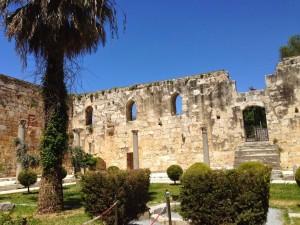 I'd love to hear from you – what's a lesson you've learned from traveling, or anything else you'd like to share. To Comment:
1. Scroll to the Comment section at the bottom of this post. It may say No Comments if you are the first.
2. Hover the cursor over the word Comments and click open the box that says Enter your Comment.
3. After writing your comment, go to the box that says Comment As and choose Anonymous from the pull down menu.
4. To make a correction, click on Preview, and then click Edit. When finished, click Publish.
5. Click on Publish.