The Summer Olympics has captured my attention this past week, and it was a nice trip down memory lane in my last post when I recalled the active days of my youth and adolescence. I felt the scar on my foot from a bike accident, and I remembered my own experience with cupping a few years ago that left dark circles on my shoulders just like swimmer Michael Phelps and gymnast Alexander Naddour. Except mine was for the treatment of age related bursitis, not an overuse due to hours swimming or in gymnastics. By the way, I've not had a problem with that shoulder since. I practically feel like an Olympian!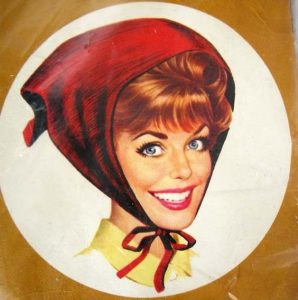 But I also wondered why I became so much less active as I got older? I blame it on (or credit) sewing at a young age, first at my mother's side, and then in 4 H, getting to make a three-cornered scarf. You were rocking some serious fashion, even at age 10, if you could make one of those to match your outfit!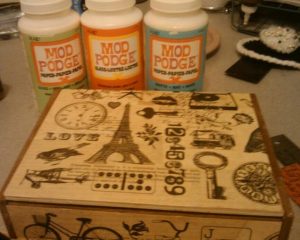 And then, there was my introduction to Mod Podge, transforming Dad's cigar boxes into a tobacco smelling jewelry box. Who wouldn't want one of those!
My stitching and gluing life began as early as my archery and swimming, but somehow, I chose crafting, and my early medals came in the form of ribbons at the County Fair. Who's with me here? I bet I have many crafting friends.
By mid-high school, I could tie a diagonal half hitch in my sleep. What, you've never done macramé? Cross stitch, embroidery and crewel were more grown up versions of stitchery and knot typing.
I stepped outside of textiles when I explored stained glass. I made a couple of "windows" and invested heavily in the supplies before I decided my world was more fiber arts, and less glass and metal. So I started weaving and before long, I owned a 45" floor loom and had a side business making baby blankets. It wasn't until I moved back from Japan that I sold my loom, but I hadn't used it for years even before I left the States.
While I lived in Japan, I discovered the world of quilting. Ah, now this is my sport, and the equipment doesn't require an entire room like the loom did. It's more than cutting up pieces of fabric only to sew them back together again. It's working with patterns and colors and experimenting with new routines and sometimes, having an epic fail and other times, sticking the landing and loving the finished piece.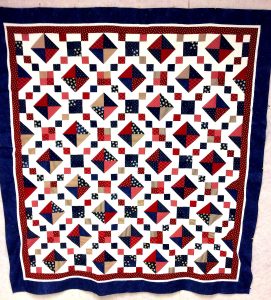 I suppose it's fitting that I finished a red, white and blue quilt top as the Final Five, and the Simones, and Katie, Michael, and Mara delighted us in front of our TVs. The Olympics always makes me embrace my American pride.
So I will continue to train for the Gold, as I've set my sights on the Crafting All Around. But along with any good goal, I'll practice some cross training, and keep on walking, splashing, and pedaling to keep the joints working.