Finally – the last post from our trip.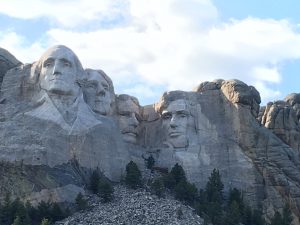 The word "Dakota" comes from the Sioux language and means friends or allies, and our experience visiting both South and North Dakota would confirm this. We found very friendly people all along the way from Hot Springs in the far southwestern corner of South Dakota until we left the states at Fargo, North Dakota. But that's not what drives people to these states – that's just the cherry on the top. It's the parks, the scenery, and a chance to be up close and personal with wildlife. That's the ice cream, hot fudge and whipped cream.
We left Cheyenne and weren't sad to see Wyoming in the rear view mirror as we entered South Dakota. I don't mention every place we eat along the way, but I have to mention Dale's Family Restaurant in Hot Springs where the food is good, the servings mighty, and the t-shirts… well, you be the judge: "The price of ammo has gone up. No more warning shots." Every state has its share of Dale's though, and we like to stop at them along the way.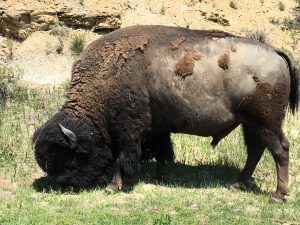 Hot Springs is just a stone's throw from the southern entry to Custer State Park, and that was our first destination. Almost immediately, we were greeted by small herds of Bison, as well as several loners near the road. No one had to tell us not to get too close, or try to take a selfie with one, or heaven forbid, pick up a calf to put in the back of the SUV. These things are big and there is nothing friendly looking about them (and we had no room in the car).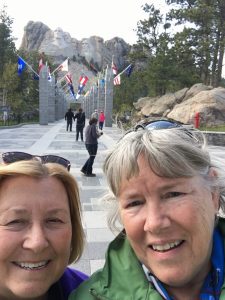 It was a curvy, hilly drive with more switchbacks than I could count (because my eyes were closed) along the wilderness loop, before we emerged at the top of the park for our visit to Mt. Rushmore. Have you been there? Beautiful.  The avenue of flags that led to the observation area only added to the view. I would suggest to go in the morning when the sun is shining on the faces. We were there in late afternoon, so we had lots of shadows.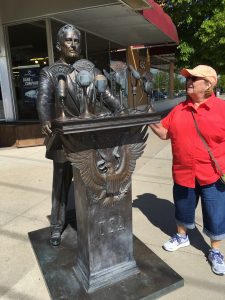 We spent that evening at a hotel in downtown Rapid City and we were really impressed with the area. They have life size bronze statues of every US president around the street corners and we had fun walking around and visiting them.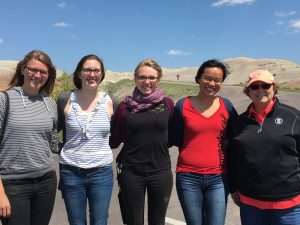 The next day was our trip to the Badlands, where to our amazement, we ran into four students from a German university who had just completed their exchange year at Michigan State. From across the small parking lot, we heard a "Go Green" which we followed with a "Go White", the cry of Spartans around the world. It was probably the MSU license plate that gave us away.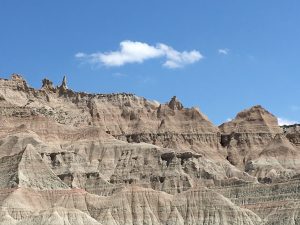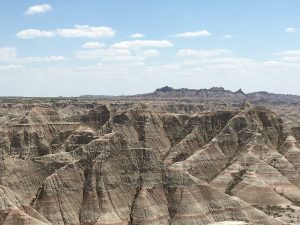 The Badlands are indeed, an impressive sight, and like so many of our other great national parks, it is vast in size. AGAIN, I was reminded, I would not have made it as a pioneer woman.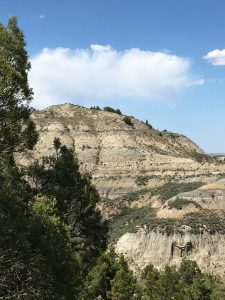 The last park we visited was the Theodore Roosevelt National Park, and we approached it from Medora, North Dakota, its southern entry. In addition to bison and more prairie dog communities, we saw our first groups of wild horses in this park. Though they were some distance away (hence, no pictures), they really stood up on the ridges like majestic animals. Medora is known for its charming outdoor family theater in the summer, but the town was barely awake when we were there, and the theater hadn't opened yet. We were pleased we could stay in the Rough Rider Hotel where every bed is adorned with a cute little Teddy Roosevelt bear.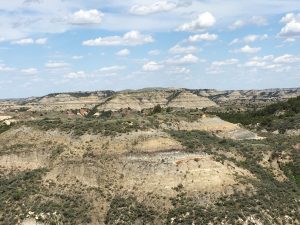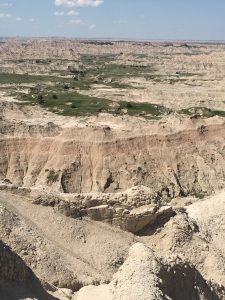 A couple of other notes about this leg of the trip:
Go in mid-late May if you can, or fall. We couldn't imagine the narrow roads in these parks during summer tourist season.
Don't be in a hurry and take in the corny as well as the beauty. We had fun eating lunch at the Wall Drug cafeteria.
North Dakota and South Dakota are two of the top five windiest states in the US. North Dakota especially. Unrelenting.
It's a very easy drive from Rapid City to Mt. Rushmore.
Our national parks pass didn't work at Mt. Rushmore.
I hope if you've never been to this part of the country, you'll put it on your travel radar. A flight into Rapid City if you can't make the drive is a perfect plan and you wouldn't need more than three or four days to see the Black Hills, Mt. Rushmore, Custer Park and the Badlands, but there is a lot more to see and do than what we did.
Regardless of where you go, I think you'll find the people of the Dakotas are friendly and your allies, just as we did.