The world would be a better place if we had more fishermen and w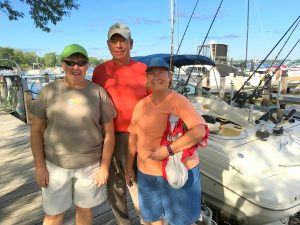 omen, I am convinced of it. Especially if they're like my friend, Ron, and his long time fishing buddy, Henry. It doesn't matter how much patience you have, how many gizmos and gadgets you buy, or how many rods you cast, you still have minimal control on the outcome. Yet, at the next opportunity, you are ready to go out again. More of us need to be content with knowing we cannot control the outcome, no matter how hard we try and how prepared we are. Imagine how freeing that is!
When I was in my early 20's, I decided I wanted to try fishing. I rummaged through my parents' garage to find a pole, bought a license, and dug my worms. Even though I have always been squeamish about slippery, slimy things, earthworms never bothered me, and somewhere in my youth, my dad taught me how to bait a hook without including my finger.
It was a lovely summer day when a friend and I planted ourselves along the banks of a slow moving river in northern Wisconsin where I taught. I cast my line and waited. I cast again. And again. And again. My fishing days ended in less time then it took me to dig, drive and bait. That was an hour I'd never get back, nor ever return to. I did not have the patience for it.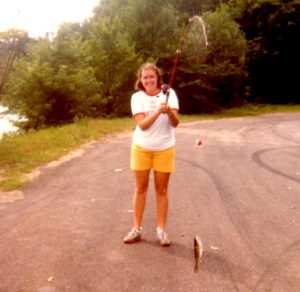 A few years later, I took my nieces and nephews camping and along with the tent and sleeping bags, I threw in a fishing pole. I think I did this just for "good aunt points" and it must have worked, because my nephew mentioned this just a couple of years ago, and I'd long forgotten it.
Over the years, I've always thought I wanted to try fishing again, though I'll be doggoned if I'm ever going to clean a fish, much less eat it.  But when my former neighbor, Ron, who has relocated to the west side of the state, asked if Kathy and I would like to go salmon fishing with him on Lake Michigan, we both jumped at the chance.
We met Ron and his friend, Henry, at the boat at 5:45 Sunday night. In the next three hours, I learned about lead core lines, dipsey divers, downriggers, depth finders, flashers, and twinkies, all used in trolling for salmon. So with ten lines readied, weighted, and dropped, we trolled, waited, and talked. By 8:45, the sun had set and we were back at the dock.
Were we successful? If success is enjoying a gorgeous late summer sunset on a boat on Lake Michigan, then absolutely. If your measurement is a bucket full of fish, not so much.
It was a wonderful evening and per usual, I enjoyed learning about the technical aspects of fishing. More importantly, I left impressed with what a special breed of people fishermen and women are who find contentment in the process, even when the outcome isn't what they'd hoped. "This is why they call it fishing and not catching," Henry said. I get it.