If it's summer, it's closet inventory time for me. Once again, I'm amazed at what I discovered.
Raise your hand if you have items in your closet that have no business being there. Keep your hand raised if you can shake your head and ask "what was I thinking?"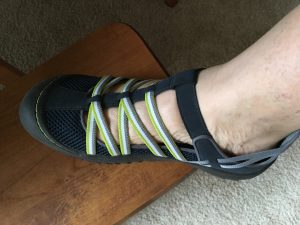 This little trip in self-discovery started when I recently shopped for a pair of sport sandals. (I have always called these tendals – part tennis shoe, part sandal.) As I was contemplating the purchase, the sales kid reminded me they were water proof and "would be good for the river."
"That's nice, but how are they in the movie theater? Or a concert in the park?" I wanted to ask, but instead, I smiled and hugged my over-sized purse around my over-sized belly. I was flattered that he thought I lived the life that needed a pair of shoes for the river.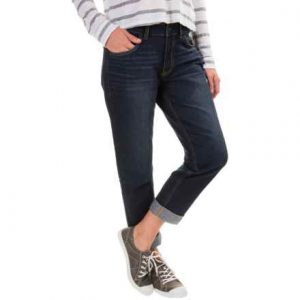 Then during my closet inventory review, I immediately put my hands on my pair of "boyfriend jeans". By definition, boyfriend jeans have a relaxed, slouchy fit, tapered legs with a roll cuff that fall somewhere above the ankles. Whether or not they are ripped is irrelevant. Mine aren't. But mine also aren't slouchy because nothing slouches on me these days.
I swear, the skinny legs make me look like a human bowling pin, so I just make sure I always stand with my feet slightly apart before anyone yells "strike!". But really, aren't I beyond the age for boyfriend jeans? Probably, but they're my favorite pair and I'm keeping them for when I feel slouchy. They also pair well with my new sport sandals.
Next up was the shirt I bought on a whim. I'm sure you've done that too, right? This shirt has a bit of a Bohemian look to it, or as my friend, Kathy, says, "the one that looks like two handkerchiefs." It can be worn off the shoulder, and thank heavens, I've never even been tempted to do that. My favorite designers are LL Bean and Land's End, and I work hard to avoid Alfred Dunner and its younger cousin, Breckenridge, so every once in a while, I get the urge to break into a new look. Bohemian isn't it.
But the best find that made me shake my head were the three items of shapewear I own, aka Spanx. Two briefs and a camisole. Now that I'm well planted in my mid-sixties, I've come to the conclusion that these products were developed for the following:
A woman on a first date.
Anyone involved in the beauty pageant industry.
A member of a wedding party, including mothers of the bride or groom.
I held up the larger/ longer of the two briefs, called a "power short" and it looked big enough for a twelve-year old. I had to try. I pulled and I pushed and I tugged and guess what? It took every bit of power I had to get them on. The end result? A mountain of flab pushed up and out the top that added a spare tire around my spare tire. But more horrifying? I lost my knees! They'd become obliterated by southern-bound sausages that lost the battle with the power shorts.
Next up was the camisole and soon, chins three and four formed as the shapewear shifted everything north – it couldn't go south. I sat on the edge of the bed and pondered why I even owned this stuff. No beauty pageant or wedding party for me. And first dates were torture enough, I wouldn't have compounded them with clothing that restricted my breathing.  Using the same power it took to get them on, I finally freed myself from the spandex death grip and said hello to me knees again.
So tell me, what crazy clothes are clogging your closet and drawers these days. Maybe we can swap…  Did I mention I have seven bathing suits?
Happy Summer!
Update: Kate has added shoes she's hoping she can miraculously wear someday. It reminded me of my bejeweled flip-flops. What else can you add to the list?