Dear January,
This is hard for me, but I need to tell you that I want to break up. Ever since the first day we met, you have been nothing but a cloud hanging over me. Even my friends and family members have complained about your influence.
There have been times that I got excited because you assured me a little light was right around the corner, but you couldn't even deliver on those promises. Last night was the last straw when you gave me nothing but a cold shoulder. Then there was what felt like a giant lunar eclipse on January 20 which stole all the light from much of the United States. It has left me and others still struggling in the dark. Fortunately, I am seeing glimpses of light begin to break through.
Am I sure I've had enough of our relationship? Well, I shared my concerns with my therapist (Geri, my hair stylist) and told her about my desire to try something new by adding a streak of magenta to my drab, silver hair. She said "That's just winter talking." So instead, my niece and her family bought me some hair chalk, perfect for kids 8 years and older.
I e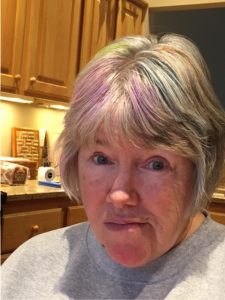 xperimented with all the colors at one time, and truthfully, it was fun. The blue reminded me of an old English teacher from the 60's, the pink looked a little too Cyndi Lauper-ish, the purple blended in too much, and the green looked like someone threw up on my head. But the orange – that worked, and I can't say I won't try it again.
From there, I moved on to my list of possible places to move, an annual ritual. Since I'm an HGTV House Hunters junkie, I'm practically an expert on various areas of the country. However, once I added "friendly political climate" to my checklist of relocation requirements, most of the places fell off the list. At least those affordable.
Before I decided this break up was what I really wanted, I even tried meditating for the first time in my life. Did you know there's a fine line between mindful meditation and a nap? Regardless, it left me feeling relaxed, and more self-assured.
So January my friend, it's time for me to move on. You have just been too depressing for me to hang with anymore. I've already found someone new, and I'm excited to meet February, even though he's a bit shorter. He has warned me he may not be able to live up to my expectations, but I'm willing to give him a shot.
I wish you well, and even though you may be tempted to give me a call again, like in a year, I'm asking you to take a good look at yourself and do some soul searching. I don't need any more of the alternative facts you've been telling me, but rather a sunny disposition on occasion. Good luck as you look for someone else to hang over, but please, don't call me again.
Pam