Lots of people are hesitant to get in the car and take a road trip during this pandemic. I don't happen to be one of them, and I've just returned from a trip to southwest Colorado for a few days. For people who don't have to stay home due to health issues, getting away for a couple of days can provide a great pick-me-up, if you travel wisely. Here are my tips.
1. Know why you want to travel. If it's to see friends and family, check with them first. They may not share your desire due to their own health concerns. If it's a change of scenery, you don't have to go far. For us, it was to escape Arizona's heat, and be able to spend as much time outdoors as possible.
2. Select a place to stay that has good, personal outdoor space, like a balcony or a patio, and has an orientation that will benefit you. Beware the strong eastern or western sun if you don't have any shade.
3. If you want to be outdoors and active, make sure there are safe opportunities that you can enjoy in your own company and without hordes of other people.
4. Take your own hand sanitizer, disinfecting wipes, spray disinfectant and a roll of paper towels. I think most hotels are doing an excellent job of cleaning, but you may feel safer touching up high-use areas.
5. Consider how long a drive you want or can endure. This may be the most important. And to get personal for a minute, you may be reluctant because of bathroom needs, but you can plan around that. By now, you probably know your own system pretty well and what triggers trips to the bathroom beyond routine matters. So guess what? Avoid those foods or drinks. Further, I've traveled enough to understand the correlation between input and output, but if you need to use a restroom, find a place that you feel comfortable in. It might be a rest area, a good, clean gas station or grocery store or even some place like Walgreen's. Just use good judgement, and don't let this issue prevent you from taking a road trip if you're in good health.
Our trip was eight hours and about half of that was through Navajo nation, which has had the highest rate of the coronavirus per capita of any place in the US. We knew we were not going to stop along that route for gas, bathroom or any food purchase. We planned accordingly, and it was a piece of cake.
6. Pack your own food including meals for the road, if you're nervous about eating food from a restaurant, including drive-through or take-out. Grocery stores now have good deli departments as well as commercially prepared salads and sandwiches. Take advantage of those options. It's also a great way to save on dining costs.
7. Most hotels now have in-room refrigerators and microwaves. I'm not a fan of frozen meals (except for Stouffer's lasagna!), but this may be the time to prepare them.
8. Take placemats, napkins and your own plates and flatware so eating in your room or on your patio/ balcony feels a little homier. And don't forget the wine if that's your norm.
9. Take your own pillows and extra pillow-cases if desired.
10. If you plan to go out and about often, take extra masks.
11. Make sure you know the protocol for the area or state you'll be visiting. A little plug here for Colorado. We stayed in Pagosa Springs and Durango, and it was obvious, those areas rate high in compliance. Everyone wore masks, lots of signs on store and restaurant doors and windows citing the state mandates, and most stores limited how many could be in the store at one time. Same is true with restaurants, of course. Also, most places made available hand sanitizer and asked that you used it upon entering the store.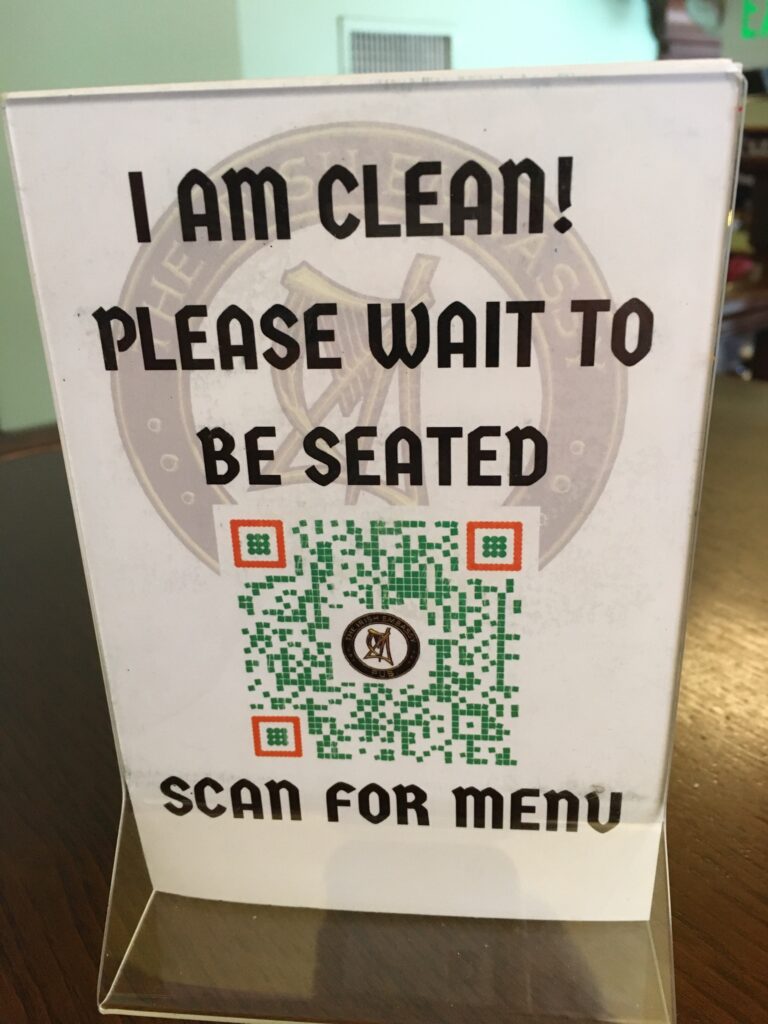 12. Choose restaurants that have patio/ outdoor eating areas and be prepared to use your phone to read a QR code that pulls the menu to your phone. No special apps are needed. We found many restaurants have gone to paperless menus, though they also had paper ones available for those without a smart phone or for those who left their bifocals in the hotel.
Go and have fun. Stay in a place that is reputable and check their reviews. Ignore the single negative person who complains because the receptionist was grumpy, but pay attention to reviews that site cleanliness.
Remember, the best practices to avoid catching or passing COVID 19 are to wear a mask, maintain social distancing, and wash your hands. Use hand sanitizer only as a hold-over until you can wash your hands thoroughly. Avoid crowds – we all know this; this disease is primarily passed person to person. You're not going to catch it by touching an elevator button, doorknob, or faucet, unless you then lick your fingers, pick your nose, or rub your eyeball. Sometimes, people forget that. https://www.advisory.com/daily-briefing/2020/06/02/coronavirus-surfaces
We're back from our little get-away, it was wonderful, and I feel recharged. I hope the same for you.  And please, if you have any additional tips, I'd love to hear them.