When this ad came across my Facebook timeline a couple of weeks ago, I almost spit out my kibble.
Temptations Made a Collar That Finally Gives Your Cat a Human Voice, So It Can Talk to You
"The Temptations Catterbox, created by London ad agency adam&eveDDB, contains a microphone, speaker, Bluetooth technology and wifi. It captures the cat's meows and translates them into human speech—words that may or may not actually be what they're trying to say."
 With a nod to Button, The Duchess, Magic and Sherlock, all felines that have owned me in the past, I present to you what they told me and I didn't have to buy a hi tech collar to know what they were saying.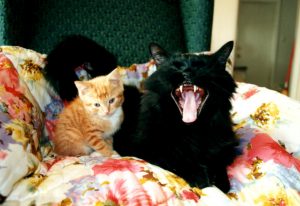 Could you hold down the noise a little. I'm trying to sleep.
Thanks for bringing in that large potted floor plant. It makes a great litter box.
That's it. I'm done with the dry food. You try living on nothing but Grape Nuts. Now let's bring out the real food.
Hey, get settled. I'm trying to curl up on your lap. It's nap time.
I have no idea how that cat hair got on the kitchen counter or the dining room table. You've told me numerous times I'm not allowed up there.
I hope you don't mind, but I just carved my initials in the coffee table.
You're bringing that puppy into this house? I'll see you in a few weeks.
You want playtime? That's just cutting into my sleep time.
Ohhhh, yippee!  A real Christmas tree!
I know you didn't like it when I brought the dead mouse up from the basement and set it by the back door last year. This time, I brought it into your bedroom. You might want to watch out for that first step.
Sorry about that squish. I didn't know where else to put the hair ball.
I know that was your ice cream but when you set it down and walked away, I thought it was fair game.
I love it when you brush me like that. WAIT! Not down there.
Ok, I'll chase my tail once more, but then, you're getting out of my chair.
That cat carrier only means one thing. And you've got to catch me first.
So what have your cats told you? Please add to the list.
Then let's start using our creative juices and money to create really important things, and let the mystery of what our cats are saying remain that – just a mystery that we interpret. We've been getting along that way for more than 3500 years, and we seem to have done okay in communicating our affection toward each other.