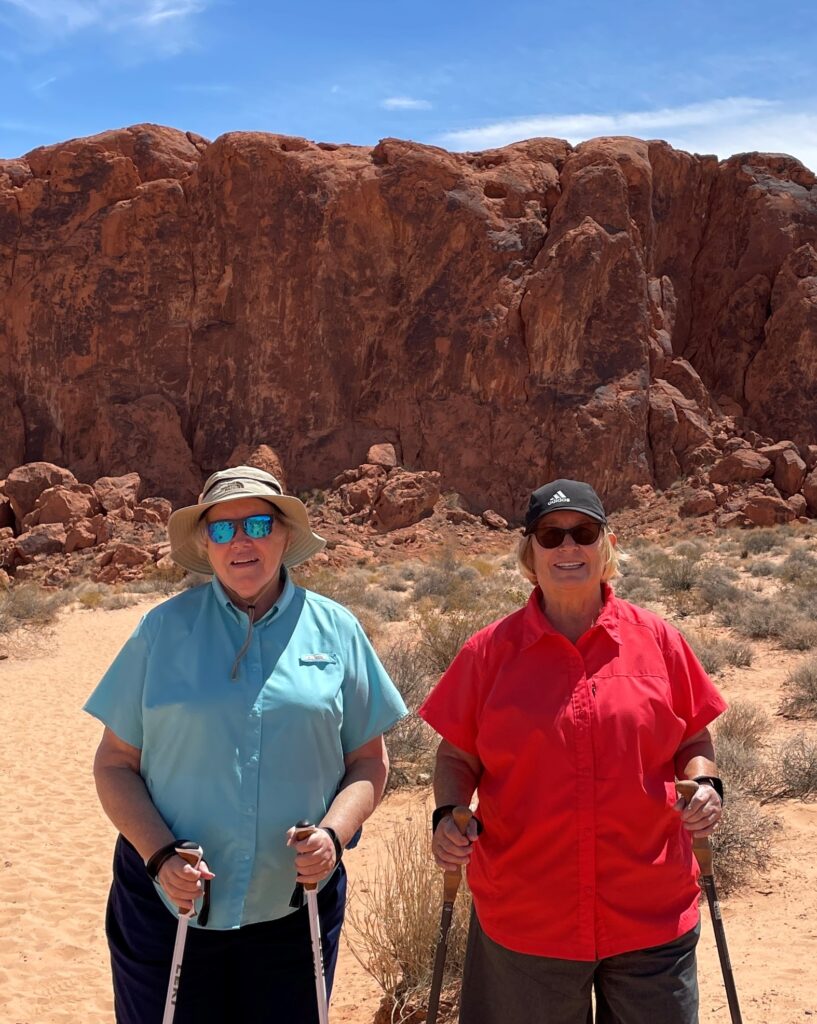 Growing up in the lush green hills of Wisconsin, I never knew much about the desert. It was brown, dry, and covered with cactus. When I moved to the Phoenix area in the Sonoran Desert, I realized how I never understood the beauty that can be found here and in other deserts.
Last week, my friend, Kathy, and I made the four-hour drive to Las Vegas. Our goal wasn't to hear any concert or see any of their famous shows, but rather to explore two parks in the *Mojave Desert that offered plenty of hiking opportunities. And my eyes were opened again to the natural beauty in landscapes carved out over millions of years of wind and geological shifts.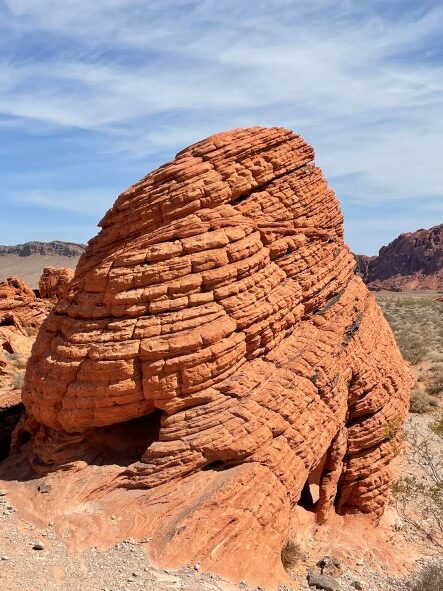 With research behind us, we drove to Valley of Fire State Park the first day, a short hour north. After exploring the Beehive area of the park, Fire Wave was the first hike we tackled and it lived up to its billing allowing us to see the sandstone formations in brilliant waves of red and white. The first third of the hike was over loose sand that swallowed the tips of the hiking poles and made me ask "do they make sand shoes just like snow shoes?" Then we hit an area of narrow passages over loose stones, but still doable for us. Finally, we walked over broad areas of sandstone. It was really a great experience and I'm so grateful I am still able to do this.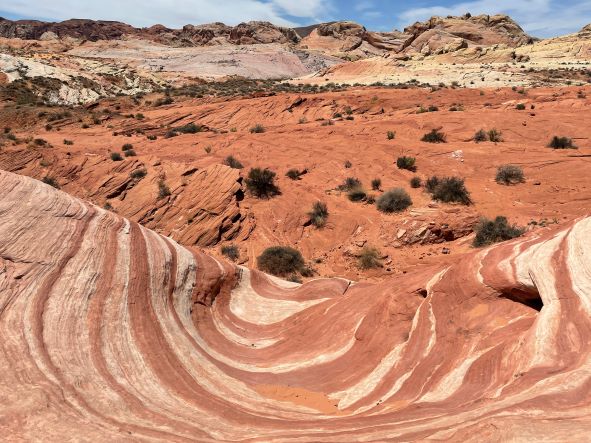 Next we headed to White Domes, an "easy/moderate 1.1 mile loop over loose sand and rough terrain." I really wanted to do this because there is a slot canyon at the end of the trail and I wanted to test my claustrophobia by experiencing the narrow passageway. I knew it had an elevation change of 150 feet but nowhere did it say that was straight down over jagged ledges covered with loose sand. Partway down, as the sun rose directly above us, we made the decision that we didn't want to have to activate the rescue team, so we ended our descent. Slot Canyon, 1, Pam and Kathy 0.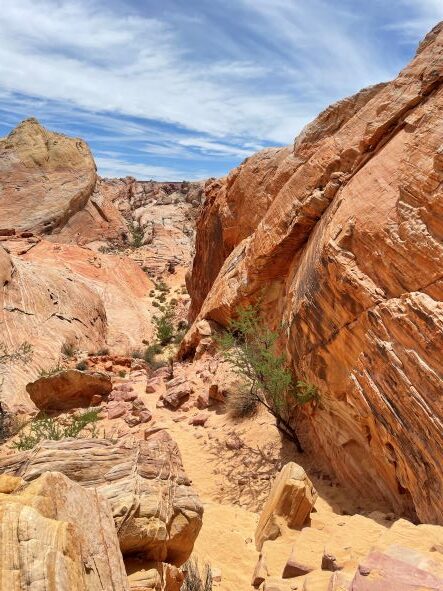 I cursed the person who described it as easy/ moderate. They should have added "for people in peak physical condition who don't know what a DQ blizzard is, and of an age when they can still remember the words and sing the alphabet song while climbing up 14 stories in sinking sand."
The second day, we headed to Red Rock Canyon Conservation area about 30 minutes west of the Strip. We tackled a 2-mile hike with relative ease, though I was sorry I'd strapped 25-pound weights to each leg. Then I realized those were my thighs. The highlight of this park however is the 13-mile driving loop with several pull-offs that showcase the beautiful vistas, and lead to numerous additional hikes. We watched several rock climbers scale the sandstone cliffs, and marveled at their agility.
Both parks are well worth the drives and added such a different element to a visit to Las Vegas. Hiking was a gamble well worth taking, and yes, the desert is amazing.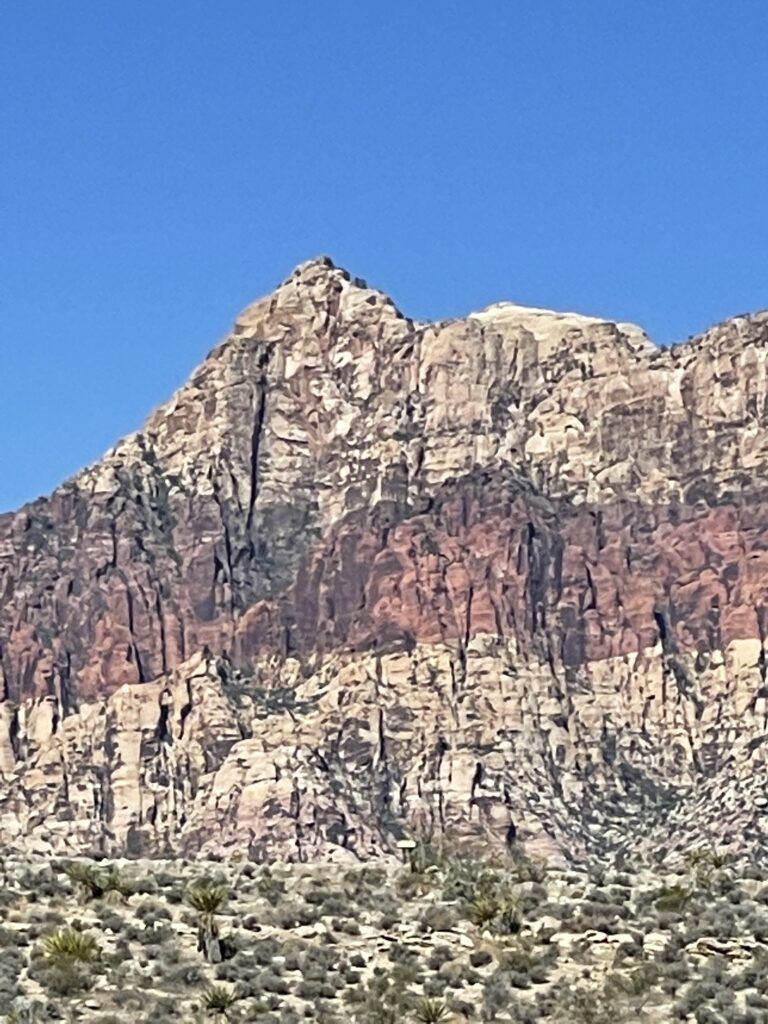 *Much confusion and argument have arisen from the two spellings of the word "Mojave." A ruling of the Geographical Board in Washington, D.C. however a few years ago simplified the problem somewhat. If you are in California, the name of the river, the city and the desert should be spelled with a "j": Mojave. If, on the other hand, you happen to be in Arizona, then you must spell the name of the county and the Indian tribe with an "h": Mohave." http://desertgazette.com/blog/?p=2092 (I also discovered, it's Mojave in Nevada, too.)
P.S. This is my 200th blog post. Thanks for following along with me. It's like a memoir, in real time