Admittedly, I suffer from never married syndrome, so I don't always appreciate the effort that goes into making relationships work.  Hence, when the date was set for my sister's 50th wedding anniversary celebration, I began to look for excuses not to go.
Takes too long to drive? I spent far more time attending an MSU football game and volleyball match a week ago. Nope, that wouldn't do.
They have five married kids, eleven grandchildren and one great grandchild. Isn't that enough? Would I even be missed? Ok, it wasn't about me.
Fifty years – not sure even what the big deal is anyway. Yep, I recognized that as lame right away.
Then my nieces told me that everyone was expected at the affair Saturday night, and since those same nieces will likely make my nursing home decision, I knew there was no backing out. California brother would get a pass, Michigan sister would not.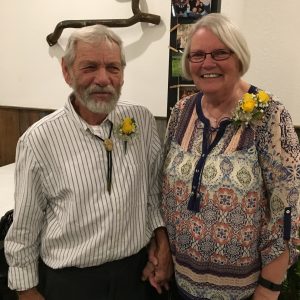 To be honest, there was no question whether I'd be attending and joining in the celebration. When I began to think about all the societal changes in the last 50 years, and managing those while raising a family of five on a farm in hilly southwest Wisconsin, I knew a good time was in order. Fortunately, their kids were all grown and gone when computers and cell phones invaded the family dynamic, and farm life didn't allow much time for the kids to get in trouble, though let's face it, teens are teens regardless of the setting or the era.
This is what I know about Barb and Wayne.
They have battled hard times and won; the economy hasn't always been kind to farmers. They still farm 440 acres, with 210 head of beef cattle and raise corn, hay and soybeans.
Their faith has been tested, but endures; they are stalwarts in their small, country church.
They are the picture of hard work, but you'll never hear them complain; Barb officially retired from both of her jobs at 70, but still keeps her nursing credentials valid. Wayne continues to help manage the farm while working full time at a local big box store. He turned 75 this past summer, and a couple of years ago, a son stepped in to help run the farm.
They've raised five wonderful children, so they know patience, endurance, unconditional love and acceptance.
They understand life would be wasted without an occasional indulgence. Hers is yarn and quilt fabric, his is a 1984 corvette.
They get that family comes first and being an active part of their grandchildren's lives keeps them young.
Yep, fifty years of marriage is something to celebrate, and I salute anyone who makes it. My Sievers' grandparents made it, but early death prevented my parents and other set of grandparents from reaching it. This never married woman appreciates all of the work, sacrifice, (and fun) that comes with a long-lasting union. Here's to 50 more!