(I am still learning how to post to my blog. If you are looking for Final Thoughts from the Two Hat Tour, please scroll down and you will find it after this one. In the meantime, this post has been updated with additional pictures from Rome.)
Rule number one when taking a taxi in a foreign country – determine the cost before you get in. Not after you close the door and start down a busy street. After it was apparent we would lose the price argument and the driver refused to stop, Kathy determined the only logical answer was to open the door in the midst of traffic and jump out of a moving cab. We had taken the taxi enough to know we were being taken for a ride, so to speak. We pounded our chests like the she warriors we'd just read about at the Coliseum and walked back to the taxi line. Guess what – they were all the same price. It was a holiday and the end of business. Boy, did we feel like fools. Rule number two when taking a taxi – hang on for dear life; the rides in Rome are as unnerving as any amusement park ride.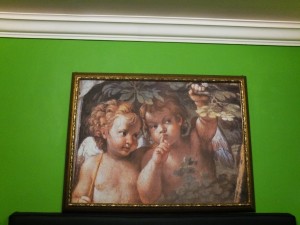 These two cherubs kept things quiet in our room.
Rome has been an adventure for the Two Hat Tour beginning with our arrival at our hotel. Mustafa must have read the look of shock on our faces as we disembarked the elevator, circa 1930. He immediately reminded us our room was not refundable and we'd already paid for our three night stay. We have endured it, and have been friendly with the charming man, but when I re-read the website, I laughed at the description. Lots of slick marketing, to be sure. I have no idea how he got three stars. The upside – a top notch popular Italian restaurant across the street with great wine! All part of the adventure.
Highlights of Rome included a tour of the Vatican
Museum, including the Sistine Chapel, St. Peter's
St. Peter's Square
Square and St. Peter's Basilica. As we entered the Basilica, Mass was ending and the most wondrous sounds of singing filled the entire space. Our guide also answered my question from Florence about discovering Nuns and Priests in paintings at the time of Jesus' life. Almost all paintings done during this Renaissance period were done for the Catholic Church somewhere along the line, so a priest or nun was included as a sign of nobility and respect. Such were the times when church and government were one. Last note about this stop – it is hard to imagine that it was the same man who sculpted David and also painted the ceiling of the Sistine Chapel. Amazing.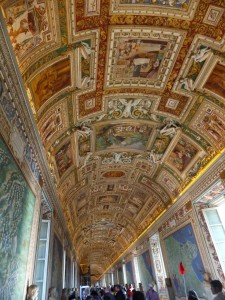 Makes my white ceilings feel a bit plain.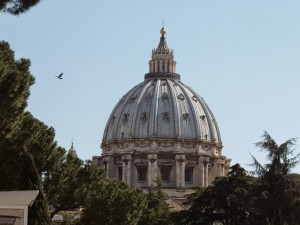 The Vatican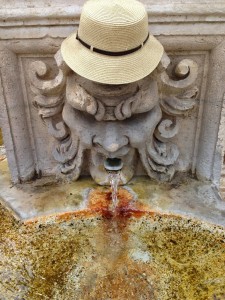 We also loved our visit to the Borghese Gallery and grounds – a massive park, and since the day we visited was a national holiday, there were many families picnicking and letting their dogs loose in the dog park. Again, tremendous art, but I also loved being outside surrounded by green space. I will say, after looking at all of this Renaissance art (paintings and sculptures), my juvenile side began to take over, all in good fun however. But man, I have seen enough – two museums in Florence and two in Rome.


With stops at the Spanish Steps to enjoy some people watching and catch our breath a bit, we set out for the Trevi Fountain. "Five minutes, straight," the man said. First of all, you can't walk five minutes straight on a street anywhere in Rome – they are all twisty, back alleys, narrow side streets; cars, Vespas, people all vying for position. The worst were those on a Segway tour. Are you crazy? Not on a crowded Rome street filled with holiday tourists stumbling over the cobblestones. Once we got to Trevi Fountain, my three coins in hand, I was bummed to see it closed for repairs. Again, part of the adventure.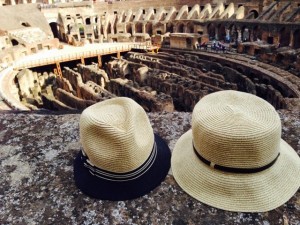 Next stop – the Coliseum. Let me tell you, this is a magnificent sight, and well worth every step, every euro and every minute. I need to do more reading, but this is where men (and women) were put to death – at the hands of other gladiators, or wild animals like the lions we are most familiar with. Just a fascinating maze like area, and when you got trapped, death was inevitable.
Though it was near the Coliseum, we only did a drive by of the famous Roman Forum, and Palatine Hill.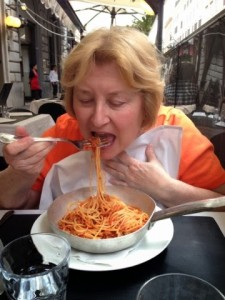 When in Rome…
Finally, we finished this leg of the trip with a stop at the laundromat. Not on anyone's list of exciting things to do in Rome, but a necessity when the next day brings a cruise. Yes, tomorrow, we leave on our Meditarranean Cruise and we will have internet service only off the ship, so who knows when you'll hear from me next. It's been a quiet day and we needed this after having been on the go since we landed Tuesday. Tomorrow we sail, and I can't wait. We just have to take one more taxi ride to the train station and you bet, we'll confirm the price first!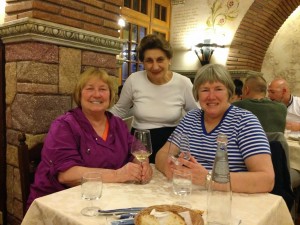 This kind woman introduced us to Limencello.
To Comment:
1. Scroll to the Comment section at the bottom of this post. It may say No Comments if you are the first.
2. Hover the cursor over the word Comments and click open the box that says Enter your Comment.
3. After writing your comment, go to the box that says Comment As and choose Anonymous from the pull down menu.
4. To make a correction, click on Preview, and then click Edit. When finished, click Publish.