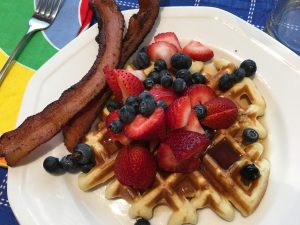 Every year on my birthday, I take some time to reflect on the past year and set a goal for the new year. The birthday I just had this weekend was no different.
I'm grateful for my health and the opportunity to do the things I want to do. This last year was wonderful and I have no reason to think my next year won't be as well.
Then I began to think about a goal for the next year. An idea immediately dripped from my consciousness like ice cream on this hot summer day.
My goal? To stop obsessing about food.
No one I know loves to plan for, grocery shop, prepare food, and eat like I do. The last three years, I finally grew some of it. Anyone want some freezer-burned green beans?
My grocery routine is a well-planned exercise in sensory management.
I'm the one who gently presses the stem end of a cantaloupe.
I'm the one sniffing the pineapple.
I'm the one listening to the green pepper when I thump, thump it.
And you bet I'm the one snitching a grape to taste.
My cupboards and refrigerator are ready to kick out a pretty good meal without a lot of notice. It would be nice if that was the end of my obsession.
My friend Kathy has to have some (relatively minor) surgery. After finding out which hospital, my response was "Good. Better cafeteria than the other." Maybe not the first thing I should have thought about.
Twenty years ago in a leadership workshop, the facilitator asked us to write down something we were passionate about. I'm German and English. Passion isn't a strong suit. I gave it some thought and finally scribbled something on my paper.
People shared their responses –
"I'm passionate about making sure everyone has access to clean water."
"I'm passionate about my husband and children and doing all I can to keep them safe."
"What drives me is my burning passion to eradicate hate."
I slowly covered my response. I'd written down food.
On my first flight to China, I inquired when the meals would be served. I wanted to time my sleep accordingly.
When a friend told me she was visiting Halifax, I started giving her directions to a great seafood place. A year earlier, I told her about the best place to get spaghetti carbonara in Rome. She questioned why I wasn't as familiar with museums. I didn't have an answer.
Now I need to add, some of this is genetics, I am sure. My sisters and I discovered that at least occasionally, we are all guilty of thinking about dinner as soon as we finish lunch. Aha! There's a science to my passion. Or obsession.
A popular author in Lansing promotes developing a life list, similar to a bucket list for others. I gave it a shot.
Take a cooking class in Tuscany.
Visit New England to experience a clambake and fresh lobster.
Learn how to make palmieres at Zingerman's Bakehouse in Ann Arbor.
Perfect a meringue pie.
Experience authentic jumbalaya in New Orleans.
Are you seeing a pattern here?
I'm in trouble, and this will be a tough goal. I need to find another obsession. But until I do, I know that June 30 is the second Meridian Food Truck Rally and I can't wait. I hope the people with the paella are there again.
Lastly, some food for thought – please consider subscribing if you haven't already. Thank you.