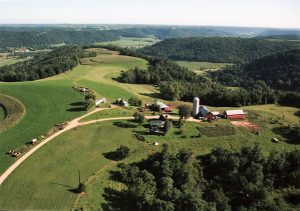 If Wisconsin is a pot roast, Vernon County and Viroqua, it's government center, are the tasty little nuggets stuck to the bottom of the pan. If you're willing to get off the freeway and adventure a bit, you'll realize the richness and flavor it adds to the state. I know that's a reference not everyone will know, but if you grew up in Wisconsin, you ate pot roast!
Bucolic views of rolling farmland. The clippity-clop of a horse pulling an Amish buggy. Fresh, white, au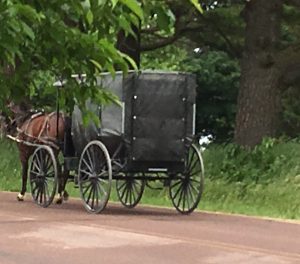 naturel cheese, not artificially colored to appeal to the masses. These are remnants of my days before I left in the mid 70's. Fortunately, it all remains.
Today however, the sights, smells and tastes have been enhanced.
The old tobacco fields grow other crops but the Northern Tobacco Pool where the product was sorted and warehoused has been repurposed into housing, studio, and office space.
A high school classmate's family farm has been converted to a lovely winery, one of several in the area.
Felix's Department Store closed many years ago, but today, the Ewetopia Fiber Shop calls the corner building with the creaky wooden floors home and in addition to commercial yarn, they sell wool from their own sheep.
Dunham's Café still serves good family-style food, but the The Driftless Cafe  is making a name for itself with the best farm-to-table meals for the more sophisticated palate. Years ago, a friend challenged me to "just once, have an epicurean experience."  The Diftless Café defines what that experience should be. It's so good that Luke, the owner, was recently nominated for the prestigious James Beard, Best Chef-Midwest Award.
The Driftless Angler and Bluedog Cycles appeal to people taking advantage of the tremendous natural resources for trout fishing and bicycling.
I may be making it more than it is, but the area could be a model for sustainability because of the resilient, forward thinking people and the geographic beauty and resources. Since the late 80's, the area has:
Encouraged and supported an industry that was on the cusp of a major consumer trend. In 1988, local farmers gathered to discuss how to survive against the large industrial, chemical farms. In essence, how to save the small family farm. Organic Valley Farms  was born. From their website, "There had to be a better way—a more sustainable way—to continue farming like we always had. In a way that protects the land, animals, economy and people's health."  Today, they are the largest farmer-owned cooperative of over 2000 farms located across the United States, and they have 900 employees, though some work remotely.
Welcomed an alternative school system that draws people to relocate to the area.  Thirty-six years ago, a handful of families familiar with the Waldorf School model founded Pleasant Ridge Waldorf School in a country, one-room school house. According to their website, Waldorf schools share the common philosophy that education should serve the whole child: head, hands, and heart. Teachers rely on stories, songs, movement, and art projects more than traditional blackboard lectures. This was the only rural Waldorf School and as such, attracted families who wanted to raise their children surrounded by the safety and beauty of the rural area. Today, the school is in my old elementary school and they serve 160 students, K-8. They also have a small high school.
Attracted small business owners and tourism leaders that translated a geological

Nikki loves fly-fishing the streams of Vernon County. She also teaches classes every year to women through Trout Unlimited.

description into a commercial brand. Growing up in the area, I always knew it was an never touched by glaciers and so its hills and deeply carved valleys are significant, but it was not known beyond geologic circles as the Driftless Area. I learned from Matt, owner of the Driftless Angler, that he coined the name for his fly-fishing shop about 12 years ago, knowing that seekers of trout would understand its implications for great fishing. I also spoke with Erik from Driftless Wisconsin  and learned that in 2008, the regional tourism folks debuted a web-site touting the area and incorporating the brand.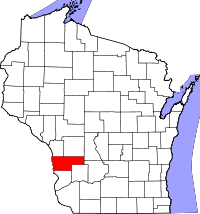 What's the end result? It's still a beautiful area with a first rate school system, strong health care, and a wonderful city park, and its population has grown by more than 10%. It's a small town, but a population increase in rural America is worth celebrating.  When I gathered with my classmates recently, we discussed how main street is barely recognizable from the days of our youth. We all agreed, if Viroqua hadn't been so welcoming and tolerant, it could have been a ghost town. My sister who has lived there since 1962 can tell you the challenges as the cultures have worked to blend, but she also likes the vitality and diversity that are outcomes.
Next time you're driving through or looking for a destination, drift off the interstate, and discover the bits and pieces of Vernon County and Viroqua that add a whole lot of flavor to the state. It's sure to leave a good taste in your mouth.