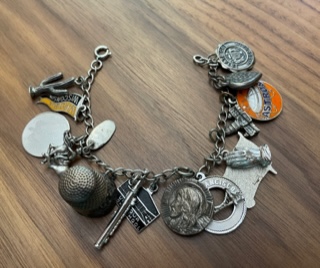 Raise your hand if you had a charm bracelet. Can't you just hear the jingle jangle of family vacations, school activities, hobbies, and religious celebrations? Chances are, if you were a woman raised in the 50-70's, you may have had a charm bracelet. According to my research, they surged post-World War II, and peaked in the early 1960's, yet I recall their popularity in the late 60's-early 70's.
"The charm bracelet has evolved over the decades, but still retains its basic concept…a bracelet with personalized charms, talisman or trinkets attached to it that have a special meaning or importance to the wearer." *
If you have a bracelet, have you looked at it lately? What does it tell about your life then? Do you have a favorite charm or perhaps one that's more memorable?
Recently, I was cleaning out a dresser drawer, and found mine. For the next several minutes, I sat on my bed reflecting on the memories of 50 years ago.  
Three religious charms, one proclaiming "I am a Methodist"
A flute, my high school band instrument.
A charm of my high school
The Wisconsin state capitol
A couple of school awards
A pony express rider from Nebraska
A cactus, though I have no idea why I would have ever had that.
My grandmother's thimble, with her initials
And then I saw it.
The confederate flag. Yikes!
I remember that trip to Atlanta with my folks very well, my first trip south. And of course, what was a symbol of the Deep South? The confederate flag. Oddly, what I recall the most about the trip? Lists of vegetables on every menu, especially lima beans. As a kid, I couldn't gag down lima beans. As an adult, I don't try.
"Early Christians wore charms in the shape of fish, often hidden in their clothing, to identify them as Christians to other Christians during the time of the Roman Empire. Likewise, Jewish people wore small charms bearing passages of Jewish law. During the Dark Ages, individuals wore charms to identify their family origin or to denote their alliance to a specific ruler, political party, or religion." *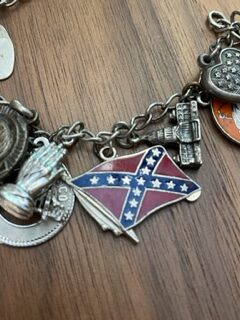 It shook me when I found the flag linked between the praying hands and the state capitol. What did this say about me? In 1974, it represented (to me) my trip to Georgia, no more, no less. I've become more enlightened since then.
My initial reaction was to keep the charm, though I would not want anyone to associate me with the symbolism it signifies. My bracelet isn't filled with value beyond my own memories. I have no heirs that will fight over it and it will likely be available for purchase at a thrift shop in 20 years. But I'm removing the charm. It doesn't represent who I am. And lucky for me, I found a nice charm of a lima bean that I can replace it with.  
*https://historydaily.org/a-charming-history-charm-bracelets-through-the-years