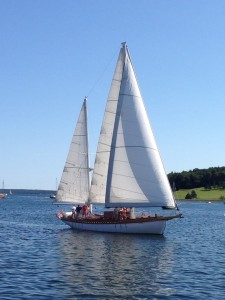 Did you know Nova Scotia means New Scotland? Did you know mackerel are caught to be used as lobster bait? Did you know freshly fried haddock tastes nothing like Mrs. Paul's fish sticks? Ahhh, education. Such is the joy of travel.
Yep, we've landed in Nova Scotia and have begun our vacation in a fish feeding frenzy. No, we are not feeding the fish, but since Thursday afternoon, we've had fried haddock, scallops, lobster rolls, seafood chowder, salmon and fish cakes. Seriously, as a kid growing up in Wisconsin in the 50's and 60's, I was exposed to three kinds of fish – tuna, as in the can, frozen fish sticks and the area supper club's fabulous Friday night fish fry. And I don't eat a lot of fish at home, but this food has been unbelievable and I can't wait to have more. I'll exceed my annual seafood consumption on this trip.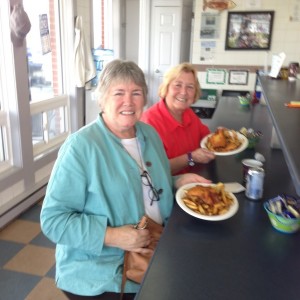 We ended up on this journey when my friend's cousin and his wife invited us to meet them here for a couple of weeks. Sadly, their plans had to change, but our tickets were purchased and our rooms reserved so we said, why not. We flew into Halifax on Thursday, and our first stop was at Fantastic Fredie's Fish, a small hole-in-the-wall local restaurant recommended by the hotel. We grabbed a couple of stools at the counter which we love to do, chatted up Tammy and her crew, watched them bread and fry our haddock that was still in the ocean 12 hours earlier, and wiped the juices from our chin as we left. That was good!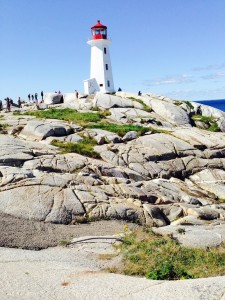 Yesterday, we toured an area called Peggy's Cove (southern shore area) and wove our way through many other coves; so many, I thought I might run into Jessica Fletcher who introduced me to the charm of coves, but as hard as I looked, I couldn't find her. (Murder, She Wrote, for those not familiar with Jessica.)
Peggy's Cove is known for their lighthouse and massive areas of granite. This did not make the Scottish and then German immigrants happy who were expecting fertile grounds to farm when they got here in the 1700's.
We have spent last night and tonight in Lunenburg, a UNESCO designated area. (United Nations Educational, Scientific and Cultural Organization.) It's a charming, hilly fishing village that spills into the Atlantic, where lobster is king, and the shops, inns and homes date to the late 1800's and are painted bright colors. Ok, so I had to look past the peeling paint on many homes, but you can tell Lunenburg is working hard to overcome their economic woes of the past several years.
We did take a lovely carriage ride learning lots about its history, and we had a fun time visiting the Fisheries Museum of the Atlantic, but mostly, I have loved hanging out on the waterfront, admiring the working boats spaced like polka dots in the harbor, alongside sail boats. This is the home of the Bluenose Schooner and its successor, the Bluenose II, clearly, the pride of the people here – this is the ship on the Canadian dime. We expect to see her at future stops along our travels. https://bluenose.novascotia.ca/history
Last night, we enjoyed listening to some local music and they made it very clear, this is not Acadian music area, so it was an eclectic mix that ran from Willie Nelson to the Bee Gees to Gershwin. This morning, we watched a wedding on the wharf as we ate our breakfast from the balcony of a waterfront restaurant. A fun way to start our day!
Tonight, I am resting my "how many hills did we walk today" achy legs, and can't help but reflect upon how fortunate I am to do this traveling. Tomorrow is another travel day and tonight, I am happy watching Wisconsin football on TV.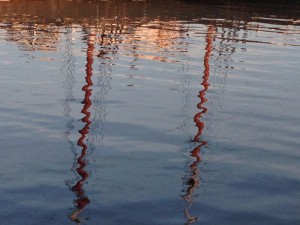 Reflection of a sailing ship's masts.