My goal at the start of this trip was simple. Post a blog on Sweden. Then a few days later, post another one on Norway. Sometimes, plans go astray.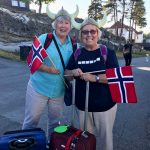 A quick flight from Stockholm to Oslo, a train ride, then another train, then a bus ride, and then a half hour car ride, and finally, we ended up in Sandefjord. And as soon as we were given our own Viking helmets, I knew Sandefjord deserved its own post.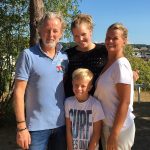 A beautiful coastal city of 60,000 about ninety minutes south of Oslo, it is the home of Elin Svendsen and her lovely family, Emma, 20, Jacob, 8, and her husband, Alvin who works in the fashion industry in Oslo during the week. Emma was my niece's foreign exchange student in Wisconsin three years ago and is a college student in the Badger state now. I believe I invited myself to her family's home when I met her last fall, and here we are.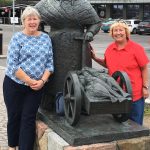 Sandefjord is on the map because of the whaling and fishing industries, though whaling stopped in the 70's.  It was also famous for its health spas. Today, it is a seaport resort town with a large harbor of pleasure boats, houses stacked on the hillsides, and Teslas parked around the city square, at the fish market, and near the restaurants that line the pier.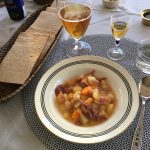 Our first evening, Elin prepared a delicious lamb stew. I had lamb when I was 14 and haven't had it since because I didn't like it. This stew was so good, I had seconds. I just couldn't believe it. In the morning, she fixed a breakfast table beyond anything I could imagine. Mackerel in the morning, I've always said! Elin is an incredible hostess.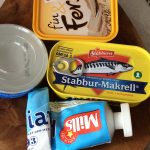 We have spent our time exploring the area which took us to the home of artist Edward Munch, whose most famous work is "The Scream." I preferred his work "The Ladies on the Bridge" featuring a woman known for her suffragette ways. Go Lady!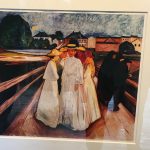 Rides along the sea and through the countryside reminded me of my native Wisconsin.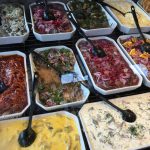 I always love a good fish market, even though I don't care for fish too much. It surprises me when the fish is so fresh, it's still  moving! But really, herring prepared a dozen ways? Who knew.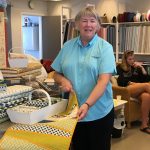 Then there was a the quilt shop in a neighboring town that lured me in. I made a small purchase, we ate lunch, and I returned to make a much larger purchase. Yikes!
But again, it's the people that made this visit so special. Elin, Emma, Jacob and Alvin invited us into their home and made us feel so comfortable. I fell in love with the sleek designs, especially in the kitchen with the compartmentalized drawer to toss recycling, trash and food compost right as they work. Now that's efficient.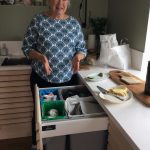 As I write this from the dining room table that opens to a view of the water. I breathe in the fresh cool air that will require me to wrap up under a comforter for the first time on this trip and know that tonight, I will sleep well. Tomorrow, Oslo bound.