Pompeii. I had a brief recollection of it but to be honest, it had been filed in the deeper recesses of my brain, so long ago, I couldn't tell you much about it. But friends here at home and on the cruise told us "You must visit Pompeii. You'll be blown away by it". And I was. If your mind is at all like mine, let me dust it off a bit.
Pompeii was a city of south of Naples, Italy, that was obliterated by the eruption of Mt. Vesuvius in A.D. 79. That's right – 2094 years ago. It was covered with more than 80 feet of pumice and ash and was not rediscovered until 1599 by an architect who discovered some frescoes but nothing more. A
rchaeologists really began to unearth the city in 1748 and were amazed at the conditions of the buildings, roads, and even bodies, after such a long period without exposure to air and light. (By the way, we saw no bodies and the plaster casts were unavailable at the time of our tour.)
It really was amazing and I'll let the pictures do the talking, but this was our last stop and we don't seem to have quite as many. Plus we were in a tour struggling to keep up, hold the earpiece so we could hear, watch where we were walking, and keep our balance on the uneven stone streets. Thinking about it, it's amazing we have any!
Visiting Pompeii did blow me away, and has left me thinking. "What if Mt. Vesuvius erupted here and my home was covered and preserved only to be rediscovered 2000 years from now? How about my city? What determinations would the scientists make about my life or life in Lansing?
Would they wonder why I sew in a windowless room in the basement, but sleep in a room with six windows? Would they wonder why some people live in large homes with lots of green space, yet others live under highway overpasses? Would they look inside our grocery stores and be amazed that there are foods still edible after all those years? And that we label them "healthy"? Would they ask why there are four TVs in my home, but no sign of anything worth watching from that era?
This is what I do know. They wouldn't be able to tell if the dust was from before or after the eruption and for that, I am grateful! But just in case, I'm going to pull the vacuum cleaner out of the closet and grab a bottle of furniture polish and at least let them think I was about to clean.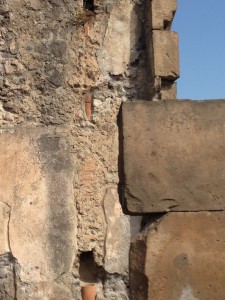 Can you see the terra cotta piping system
in the two story house?
Excess rain water would be collected in this pool
and drain into a storage tank.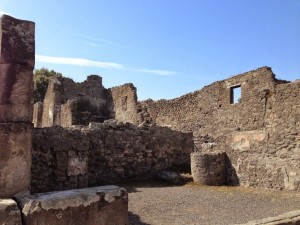 In the lower right corner, you can see where the ledge
has a track carved into it to accommodate an wooden accordion
door which indicates this was a shop and the home of the shopkeeper.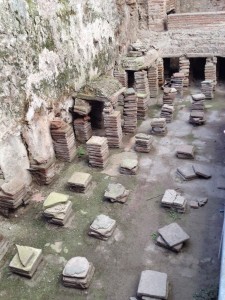 This floor was similar to my first home –
warm water would run between the two floors
and the heat would rise in the floor vents. In my
case, it was simply forced hot air, but the
principles were the same. This amazed me!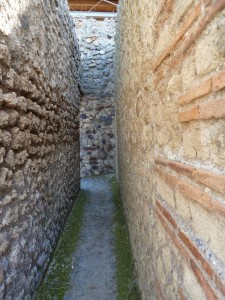 There were many shortcuts to the local
brothel and stones were placed in the
street in the shape of arrows showing the route.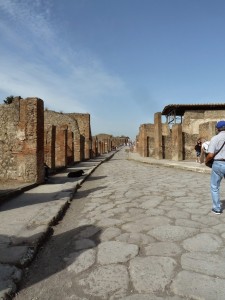 This gives you an idea of the size of the area.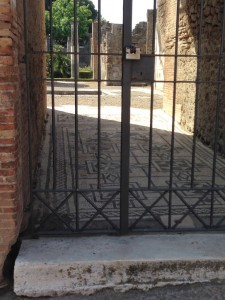 The art work in the mosaic floors was beautiful.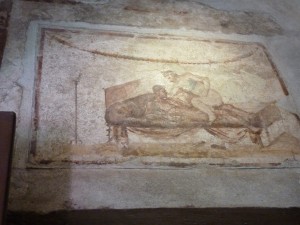 Frescoes, dulled by time, but still vibrant.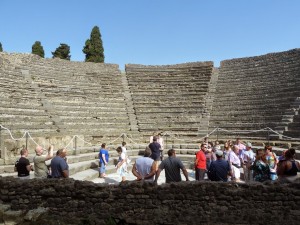 Every city needed an amphitheater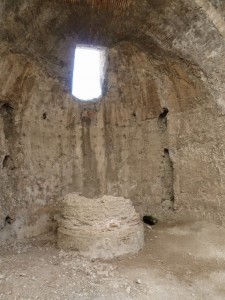 a steam bath house,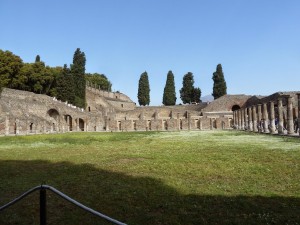 and a ball field.
So what conclusions could they make about your life or community? Please share…
To leave a comment:
1. Scroll to the Comment section at the bottom of this post. It may say No Comments if you are the first.
2. Hover the cursor over the word Comments and click open the box that says Enter your Comment.
3. After writing your comment, go to the box that says Comment As and choose Anonymous from the pull down menu.
4. To make a correction, click on Preview, and then click Edit. When finished, click Publish.