How we ended up on a working wharf is not important. Did that Private Property warning really mean us? But what we learned about the herring and scallop industries in Nova Scotia was clearly worth the risk. On top of what we'd already discovered about the lobster business, we are practically able to carry our own at a cocktail party should the topics ever come up. And should we ever attend cocktail parties.
Nova Scotia is divided into regions for fishing and every region has different dates or quotas – depends on what you're fishing. And thanks to my new friends, Glenn and Nicole, my head was swimming by the time we left the wharf.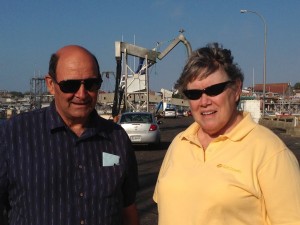 Glenn is the captain of the Lady Melissa and we caught up with him about an hour before he would head out for the night to catch herring. The season starts in May and will end in October, and most of the herring end up in Germany, for distribution in Europe.
"So who's Melissa," I asked when I saw the name of the boat.
"She's my daughter and she's 40…" he never could come up with an exact age, but somewhere in her 40's. I promised him I'd never tell Melissa.
Glen, like most of his crew, were in their 60's.
"This is perfect for us old guys. We do this from May to October, then we head to Florida for the winter." He'd recently brought a nephew on to join the crew, and was hopeful he would take over the boat someday. That's a big challenge for the fishing industry today – not too many younger guys want to do this heavy, dirty, manual labor, and live this lifestyle.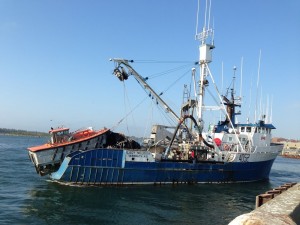 "But what else am I gonna do," he said with his thick Acadian French accent. "I dropped out of school when I was 17 and I've been doing this ever since."
His crew goes out late day with the high tide and they work all night. Herring only come up when it's dark, so once the boat gets to their area and it is dark enough, they launch a two man smaller boat with one end of a net tied to it, the other tied to the main boat. And this is called seine fishing – they scoop up the herring with the net, bring it onto the boat, and when they get back to the wharf in the early morning when it's high tide again, the herring are "vacuumed" out of the fishing boat and into a seafood company truck. Their hours shift due to the tide.
After we waved good bye to Lady Melissa, we came upon Nicole, and had to check out the action at the other end of the wharf.
Nicole comes from a long line of fishermen, and has worked in bookkeeping for a seafood company for 14 years. This day, she decided to ride along with her boss where they were joined at the dock by the weighmaster to greet a scallop boat returning with its last catch of the season. Every January, fishermen get a new quota for scallops, with the possibility of a small increase in October, depending on how much was caught overall in the industry.
Scallop boats go out for several days at a time, and must shuck the scallops while at sea, only returning the scallops as we know them, all bagged and kept on ice. The shells are thrown back into the water, and picked up on shore by excited vacationers all up and down the east coast.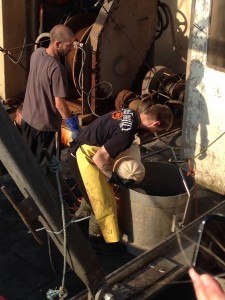 Today, this hard working crew would offload approx. 2500 lbs, all by hand, and every bag was weighed and tracked by the weighmaster. Once at the distributor, the scallops are shipped to the US where they are distributed immediately or flash frozen.
The captain of this crew gets about $7.50 a pound, plus that equivalent to offset the quota license. After he takes his costs for the boat and his own pay, he divides the rest among the workers, consequently, they try to take out as small a crew as possible, usually four. Today, it was a crew of five, perhaps because it was their last trip for the season and they wanted the additional manpower.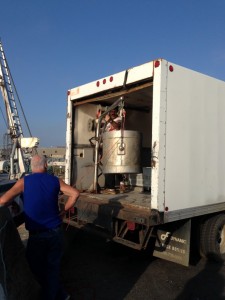 This was a cigarette chomping, dirty, rough looking crew, but I imagine if I'd spent the last week sleeping in the hull of a boat alongside 2000 pounds of fresh seafood, no showers available, I'd look and smell mighty ripe as well. I speculated there would be a fair amount of beer consumption that night, knowing it was the end of the season.
Regarding lobster fishing, in this very southern spot in Nova Scotia, the last Monday in November in known as "dump day". The townspeople line the wharf and nearby streets with their car lights on at 6:00AM to help send out the lobster boats when the can "dump" their traps on this, the opening day of lobster season. The season ends on May 31. Some will come in and go out every day, some boats will stay out for months at a time. Lobster must be 1 pound and when you see "Maine lobster", don't be fooled – many come from Nova Scotia as Maine fishermen can't possibly meet the demand.
I hope you've enjoyed this initial installment of Pamipedia. I can't say when the next one will publish, so stay tuned.