It took a colder turn in our temperature to get me moving, but I finally hauled out the Christmas decorations last week. Every flat surface and window sill is covered with holiday frivolity. Art work has been removed from the walls and replaced with Christmas scenes in needlepoint and wood. Christmas quilts have come out of hiding. Even door knobs got in the act. The tree anchors one corner of the living area and when the lights are on, the whole room glistens.
What do your decorations say about you? Glitzy? Country? Plain and few? If I had to describe my decorating theme, it would be easy – craft fair chic. Okay, maybe that's an oxymoron.
My house is Christmas on steroids and for one month, I can manage the over-accessorized look. But I tell you this – I need to have a buying moratorium on fabric-stuffed snowmen. In fleece, mohair, felted wool; on skis and sleds, in tropical blue and lime green, red and black buffalo plaid, some dusted with glitter – err snow. If I ever need to pare down my decorations, I know where to start.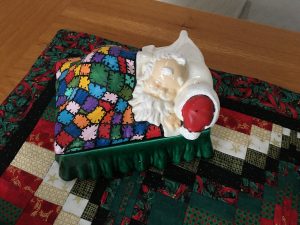 Then there are the sentimental items – small porcelain angels my aunt always had on display, but the most special is a candy dish my mother made. It's never held candy, as far as I know, but I'd grab it if the house was on fire.
What I enjoyed most this year was decorating the tree. Many years ago, I began decorating my tree by meticulously placing sprigs of silk ivy, poinsettia blooms and red, green and gold ribbon bows. The tree was gorgeous, but it wasn't me. It had no soul.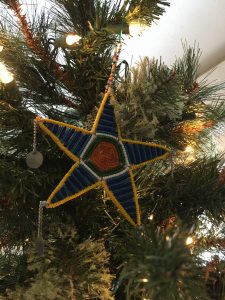 I've moved beyond my Better Homes and Gardens days and with every ornament I hung this year, I savored the  memory. Laughter and adventure from road trips around the country and travels throughout the world. Fondness for the people I've worked with and groups I've belonged to.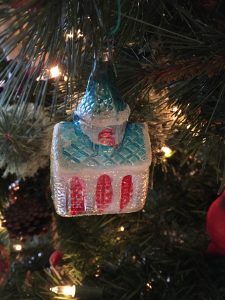 This year, I even hung ornaments that belonged to my parents from the days of their marriage in the early 1940's. I've kept these in a separate box for years to protect them, but protect them from what? They have a special place this year right alongside the new.
The most special ornaments however are from fami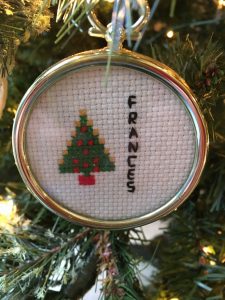 ly. I spoke to my mom for a long time as I hung hers. Her last Christmas with us was in 1979.
The tree decorating was part nostalgia, part whimsy and part reflection, and a lot of Kleenex. The finished product is a great snapshot of my life and I'm sure yours is like that, too. One year, I decided not to put up a tree. I think I was traveling, or maybe I was too busy, or a little depressed. What a joy I missed out on, and said never again.
For the next few three weeks, I'll enjoy every ornament, every snowman, every nativity scene – I have 4 of them. I'll launch into planning another trip so I can collect more ornaments, schedule another family visit, and shed a tear or two over all the memories. And I wouldn't want it any other way.
May the holiday spirit warm your heart this year. Blessings to each of you, and thank you for going along this patchwork journey with me.
Peace.