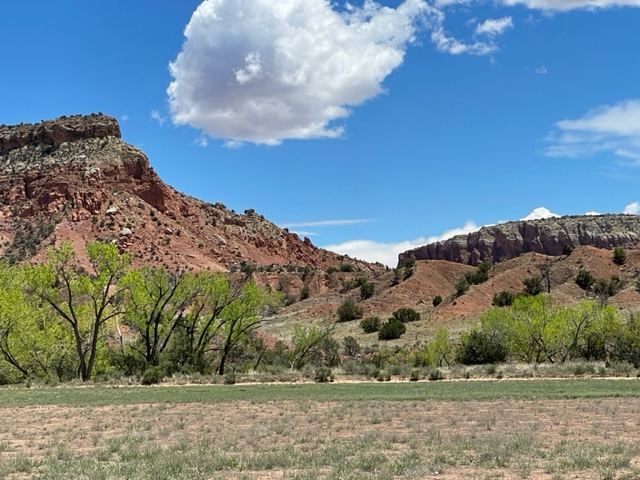 New Mexico is known as the Land of Enchantment. After recently spending two weeks traveling throughout the state, I'm calling it the Land of Enlightenment.
Our interest in visiting our 47th state was initiated by artwork including jewelry and pottery that we'd seen at the annual Native American Market at the Heard Museum in Phoenix. Much of it comes from artists from the various Native American Pueblos in New Mexico, so we went in search of …
Pueblos
What exactly is a Pueblo? Here's my take – it's a geographic area that may include numerous towns, or it may be much smaller in size and include one or two communities. The Zuni Pueblo is geographically the largest at 724 square miles.
I also found that it refers to the collection of original adobe housing units that were created generations ago, still often inhabited by members within the Native American tribe. There are 19 pueblos in New Mexico, and each tribe is a sovereign nation with its own government, law enforcement, traditions, culture, and often, language. A pueblo is similar to a reservation, but there are nuances that differentiate the two.
We visited six pueblos and drove through several more, checking in with the governor's office (local pueblo leader) or visitor's center each time we stopped to visit so they knew why we were there, and that we understood rules that needed to be followed. There were often areas we could not access, and photos were not allowed, unless we bought a permit where available, or were in a designated tourist area.
The standard of living seemed dependent on the external resources the pueblo had secured. The Sandia Pueblo has a beautiful casino/ resort, and there is a Hyatt Resort and golf course on the Santa Ana Pueblo. The Taos and Acoma Pueblos depend on tourism, and both are well worth the visit.
What none of them have are the cutesy artisan shops like I'd imagined. (Kathy is quick to add I was nuts to think this in the first place and she was right!) The artists work from their homes and primarily, take the products to Native American art fairs or the market in Santa Fe. Which takes us to …
Santa Fe (and the area)
Beyond Santa Fe's restaurants and galleries is the Palace of Governors Market where members of the various pueblos who have proven their craft and have the necessary credentials, may sell their craft along a two-block outdoor venue. You know you are buying authentic, native made jewelry, pots and other crafts. https://www.nmhistorymuseum.org/programs/portal-artisans-program/
Santa Fe is the arts hub of the state and its capital, and has a Saturday arts market that morphs into a farmer's market that should be on your list if you visit. Santa Fe is also a good launching point for visits to Los Alamos and Bandelier National Monument. This one-day trip we took that was probably the highlight of the trip for me.
One of my favorite attractions in the city was the 'roundhouse' AKA the state capitol. But what makes it spectacular in my opinion is that all three stories are open to the public and filled with art from New Mexican artists, representing the state, including its diverse geography, which leads me to…
The Landscape
On my first driving trip to Arizona several years ago, I was gobsmacked by the geographic rock formations of New Mexico. As we traversed the state from south to north on this trip, thelandscape captured my attention even more. The stratification in the mesas and buttes; foothills that reminded me of grandma's Christmas apron made of dotted swiss except instead of white on red, it was dark green flocks against the tan earth; firs and pines in the mountainous areas as we climbed to 7,000 feet; sandstone cliffs, and yes, even the tumbleweed we encountered in the open areas. I think it's a beautiful state. The Rio Grande runs the entire length of the state and we enjoyed watching the rafters. From a distance.
There is so much to see and do. I could go on and on talking about the Cinco de Mayo program we stumbled on in Old Mesilla near Las Cruces, our visit to Georgia O'keefe's Ghost Ranch near Abiqui and the Pueblo Cultural Center in Albuquerque.
Instead, I encourage you to visit this state. And perhaps you'll be both enchanted and enlightened.
For more information on the pueblos, visit this link. https://www.newmexico.org/native-culture/native-communities/