For thirty-five years, I've been the keeper of many items representative of my family's history. I've reached the time I want to move more of it along, simply because I want the space, but my 'old soul' is kicking in. Let me explain:
Practical Pam: You seem troubled no one wants your stuff?
Pathetically Sentimental Pam: It's family history.
Practical Pam: It no longer has value. When's the last time you've even looked at any of it?
Pathetically Sentimental Pam: But once it leaves the family, it's gone.
Practical Pam: Who cares?
Pathetically Sentimental Pam: No answer.
What's the tug-of-war? I want to control the outcome. Sounds petty, I know. I simply want the stuff (especially the personalized items) to stay in the family. Period. This isn't fancy sterling silver or expensive jewelry that would actually be worth something if we had it to begin with. That would be easy.
Instead, I have the pieces that aren't in demand by anyone. Over the years, I've been successful at goading various family members and have unloaded dishes and furniture, but they're on to me now. These are some responses when I emailed a couple of offerings last week: "Not here. Thanks." "Thanks for thinking of us but we don't want them." "Nice, but no." "Nope, we're downsizing our own stuff." Actually, my sister is taking a bookcase and my cousin, some books, much to the chagrin of their children, I'm sure.
I get that I am part of this boomer generation who hears lots of "Thanks, but no thanks" as we try to unload what we gladly received by our parents or grandparents who gladly received it from theirs. Our children (and in my case, nieces and nephews) don't have room for it, it's not functional, they live in a more disposable world and they'd rather buy what they need at Target. And in the end, it's just stuff, to be honest.
This is some family history I know from "this stuff":
In 1911, my grandfather was on the faculty of the Massachusetts Agriculture College, and a member of their book club. They read and studied the poems of Henry Van Dyke. I have his book noting this. I think that's really cool.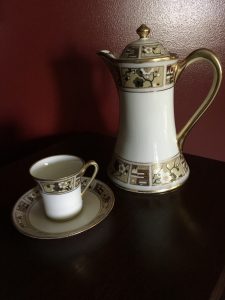 My grandmother served hot chocolate in the hand painted porcelain "chocolate set" but if all a person got was one little three-ounce serving, it explains the difference in size between my generation and hers.
My great-great grandfather apparently had quite a feisty side. In his (red velvet covered) arithmetic text book, he wrote "Israel Pocock's book. Steal it if you dare and I will make you fetch it back again. 1846" Don't mess with Israel!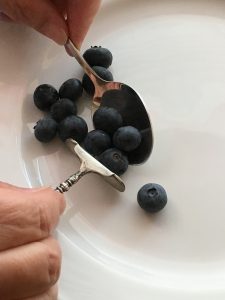 My mother's mother came from sort of hifalutin stock, hence my mother had her own silver baby food pusher, engraved with her initials. Apparently, this predated thumbs.
Grandma Sievers' recipe box includes a "recipe" for cleaning a shower curtain. My recipe? Make that trip to Target.
I could go on and on, but you get the idea.
What do you plan to do with furniture and family heirlooms that have only a sentimental value? Do you plan to just let the survivors figure that out?  Knowing it is unlikely that I'll have the same resources and faculties at the end of my life as I do now, I refuse to subscribe to that plan, but maybe I should. Maybe a large Rubbermaid tub that surviving family members can sort through (and then toss) is the best solution. Darn, there's the Practical Pam again, and sometimes, she knows best.