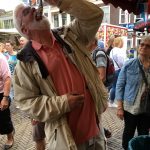 I stood back and watched the man with awe. He tilted his head back and held the raw herring coated in salt and chopped onions over his mouth. That's the technique so it slides down easier. Three bites. Maybe four. Man, after man. Woman, after woman.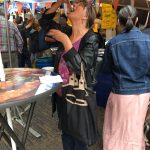 Others used a fork to eat it with a pickle. The guy hawking the slimy fish sold them as fast as he could clean them, and while Kathy was invited to try, I had to look away. The smell of raw fish was getting to me and I didn't want them to see me gag.
This was the strangest food I saw on this trip and I keep asking myself, what do we have that the Dutch would find as odd? I can't come up with anything so far. Can you? We only saw this in three markets where you stand and eat what you purchase. This is not cafe-worthy food.
As we wrap up the Keep in Trippin' Tour, I dedicate this post to food, and some observations based on my limited research.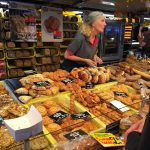 It is common everywhere we were that locals walked or rode their bikes everyday for fresh bread, fish, meat, produce and cheese. Some were actual storefronts, others were stalls as part of larger local markets. Whereas I love cheese, the bread places held the most allure for me. My goal when we return? Learn to bake a good rustic, multi-grain bread, and my sister and a friend have already offered to help me.
Our hosts in Sweden prepared a delicious baked salmon with a creamy dill sauce, so fresh and cooked perfectly, it melted in my mouth. The herring they served prepared three ways, usually eaten with a bite of potato won't be served at my house however.
In Norway, we were introduced to lapskaus, a thick stew. Ours was made with lamb, potatoes, onions and carrots and was served with paper-thin Norwegian flatbread. I loved this combination and was so grateful our host wanted us to have some authentic native food. Did I mention I had seconds? The next night we had cod, fried with bacon. How can you go wrong.
Our next host in Norway served Swedish meatballs with potatoes slathered in gravy, with lingonberry jelly on the side. The combination of the tart jelly with the meatball was sublime, and I can't wait to fix this at home. She also fixed a pavlova cake that has a meringue base. She had to roll us out when we left her home.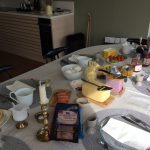 In both countries, breakfast is a huge spread that includes great breads you slice yourself, crackers that reminded me of the rye-crisp my grandmother kept in her oven so know one would find them, multiple kinds of cheeses, salmon, sliced meats like ham and salami, veggies like cherry tomatoes, olives and cucumbers, yogurt, granola, herring, individual servings of mackerel and liver pate, juice… you name it. This was in hotels as well as the homes we stayed in.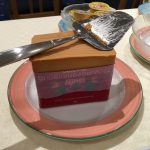 I was introduced to brown cheese at our first stop in Norway and quite simply, fell in love with it. It's very creamy and silky – at least the cow/ goat variety is. The goat version wasn't quite as appealing to me – different texture.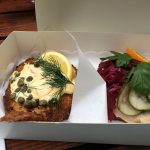 In Denmark, we learned smorrebrod meant open faced sandwich eaten with a fork and though we'd seen a shrimp and egg version in Sweden and Norway, it wasn't until Denmark that we saw numerous varieties, mostly for "take-away." Kathy's on the left was fish with a sauce and capers, and my favorite was a cold roast pork topped with pickled red cabbage and barely brined cucumbers, on a thin slice of dense, dark multi-grain rye bread. This was one of my favorites foods on the entire trip.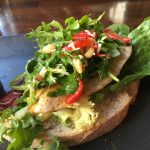 There's no question, Scandinavia is big potato country and new potatoes were served in all three homes we visited, and with meals we ate in restaurants. And they love peppery rocket salad on sandwiches, on pizza (after it bakes), on pasta, and anything you like. This is arugula for those who don't know what rocket salad is (like me before this trip.)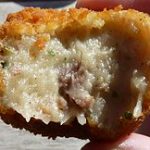 By the time we got to Amsterdam, we saw remarkably different menus. Lots of eel and cod, but also roasted chicken and hamburgers. The Dutch are also known for their bitterballen, small croquettes with a gooey meat and paste filling. This is considered a snack, but I'll stick to a cookie or popcorn (or fruit when I return.)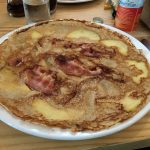 Their thin, crepe-like pancakes can be savory or sweet and mine was a combination of the two – bacon and apple.
So that's a wrap on the food. Every country has their own version of ham, similar to prosciutto. It might be called Serrano or Parma, but it's the same, and it was always my fallback when I didn't want fish.
By Monday, I'll be back to bran flakes and berries with skim milk for breakfast. I'm craving fresh salads and vegetables and fruits of any kind. And milk with every meal. I always want milk when I return. But today, I'm nibbling on a wedge of "young Gouda" cheese we bought at a local market today and a multi-grain roll. I left the herring for the others.