I have a simple travel philosophy – I need to find five people who have been there, done that AND enjoyed it, before I'm buying my tickets and packing my suitcase. I knew only four people who had been to Nova Scotia. We went anyway.
The guidebook said to allow 10 days to visit Nova Scotia. We planned 16.
I expected nonstop Acadian music, charming villages, luscious seafood, jaw dropping seascapes, and magnificent countryside scenes. Such are the dangers of an over active imagination.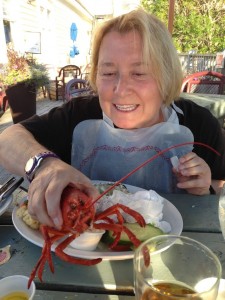 Don't get me wrong – I LOVED learning about the fishing industry, and to talk with men who have done this their entire lives, and the battles they've fought be it the weather, stakes over international fishing waters, or the rigors of planning your career around the tide changes. In the southern part of Nova Scotia, lobster season doesn't even begin until the last Monday in November and ends in May. They fish for lobster at the very cruelest, most treacherous time of year on the seas.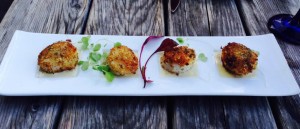 I LOVED the food; sinking my teeth into my first lobster roll, savoring the sweetness of the fresh scallops, discovering haddock may be my new "go to" fish. Even the popular Acadian dish, rappie pie, which is not really a pie, but simply layers of potatoes and chicken with a little pork fat tossed in for good measure and then baked for hours – the first bite took me to Thanksgiving leftovers immediately, and I loved it.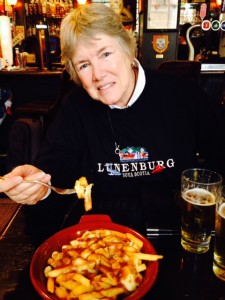 I did not eat all of this, really.
I don't need to try poutine again, the popular Canadian dish made with french fries, cheese curds and gravy. Oh, you can dress it up and put your own spin on it, but after the second bite, it's all downhill – trust me. But most of the food was outstanding!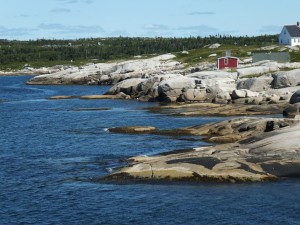 At Peggy's Cove
I LOVED the coastlines, and they changed from massive granite rocks to silky sand beaches to cliffs towering over the waves. And with the coastline came the lighthouses, no longer decorative embellishments on picturesque postcards, but hard working tools in the sea-faring way of life.
Every seaside town had its memorial to ships and fishermen lost at sea. It was a sobering reminder of the viciousness of life on the ocean.
For this Midwesterner, the tides were fascinating and dictate much of the life there, just as farming did where I grew up. And these are some of the biggest tidal shifts in the world – a 30 foot change is the norm and on some days, you can walk more than a mile out onto the bottom of the ocean floor when the tide is out. I didn't do this, mind you, but you can if you don't mind a little muck.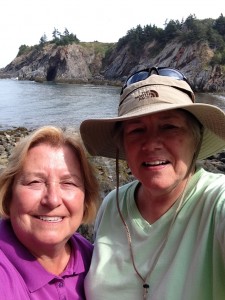 Smugglers cove where rum was hidden.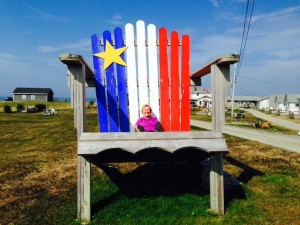 She loves those big chairs! Acadian flag.
But to be honest, the quaintness of the coves wore off by about the sixth bend in the road, today's two-a-day tides are no different from yesterday's, and there is little music to be found, especially after September 1.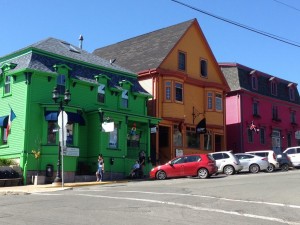 A friend asked me this week if I'd recommend the trip to others – yes, but only around festivals in July and August. Beyond Halifax, which is lovely and has a magnificent waterfront, Nova Scotia is a sleepy province, and really closes up early in the evening, and shuts down for the tourist season in early September.
We were looking for a late dinner one night in Lunenburg, one of the busiest tourist areas with their brightly painted houses and businesses. The only place open at 9:00pm was Subway – seriously.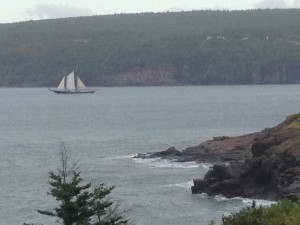 We had grand fun learning about the original Bluenose tall racing ship and now the Bluenose II, its replica, considered a Canadian ambassador, sailing up and down the coast. We happened to catch up with it at two of our stops, and loved watching it in the open water. They next time you see a Canadian dime, you'll see her depiction there, a true iconic image of Canadian pride.
We did get to a Kitchen Party – a gathering of musicians, adding harmony (in our case, with a clarinet chiming in from the audience), trying out original songs and entertaining the crowd with long time favorites. The term originated when people used to huddle around the wood burning stove in the kitchen for a night of singing and dancing.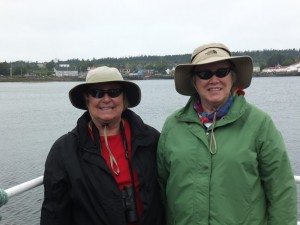 We ventured out for an afternoon at sea in search of whales. Instead, dolphins kept us entertained.
But it was a good reminder for me – when you set your expectations so high, they are likely not going to be met. When you get sucked into all of the slick pictures in polished brochures and web sites, you might be disappointed. And when you have lived all of your life in Wisconsin and Michigan, two states gloriously gifted in natural resources that provide scenic views, it's harder to be impressed.
The trip to Nova Scotia was scheduled around a visit with some friends who were going there. Unfortunately, they had to cancel their plans, but off we went, ready to hike and explore; eager to be charmed, and willing to become slack jawed at the awesomness of the whole experience. Not so much. And without our friends, we made the decision – it was time to cut bait. And with changed airline tickets, we returned home on day 11. In the end, I'm still certainly glad I went, though I still only know four people who have been there, done that and loved it.
Note: We did not travel the Cabot Trail or see Breton Island, what many tour books really focus on. We met too many people along the way who said "don't worry; over rated."
To read my other posts on Nova Scotia, continue to scroll down this page.