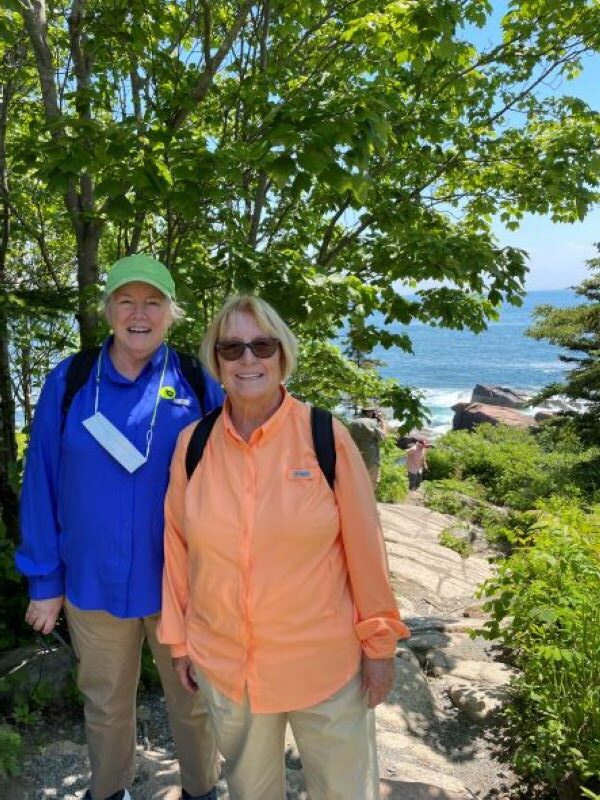 I just recently returned from a seven-day cruise with my friend, Kathy. It took us from Boston to Montreal via the St Lawrence Seaway. As a result, I have produced Pam's Cruise Rules.
1. Unless you are a high-stakes gambler, fly into your departure port the day ahead of time. Sure, the hotel is expensive, but not as costly as potentially missing the cruise. No one wants to hear "your upcoming flight has been delayed" knowing you'd miss a connecting flight. We had gambled, booked a red-eye, and almost lost.
`With a little effort, we made the cruise – with an hour to spare. We were two of the last four passengers to board the ship, and we never knew if the other two people made it. The upside? There were no boarding lines and the people were really happy to see us. This wouldn't be the last time I felt I was on the TV show, Amazing Race.
2. Always buy the airport transfer package. I remember when this was included – no more. Once we connected with the cruise reps at the airport, I could relax.
3. If it can't fit into a carry-on, leave it home. You're never going to see these people again! Even if you travel with friends, make a pact – you're going to wear the same clothes to death. We opted out of the two fancy dinners to make this workable. Lots of other food choices on board. Save dressing up for when you get home.
4. If the ship isn't full, you will get offers to upgrade your stateroom in the week before the cruise. Let the first couple of offers go by. Finally, we opted on the third time, couldn't pass it up, and upgraded to a room with a balcony. Best decision ever.
5. Know how to keep yourself entertained. Our ship had very little on-board programming and I don't really care how to fold towels into a lobster or elephant. If the website promises some programming, verify at the time of booking if it's important to you. Sadly, the cruise didn't deliver some programs that had interested us.
I'd been looking forward to some food demos from America"s Test Kitchen and our first evening, we followed the signs to the theater and joined the other people entering. I glanced at the table to see kitchenware and towels. Then I saw the books. Celebrating the Eucharist. This was Catholic Mass! This wasn't the programming I was looking for.
6. Download books, magazines or music before you get onboard because the internet is lousy, even when you buy the enhanced package. Savvy technology skills will be your friend.
7. Turn drama into comedy. One morning as I was sitting down for breakfast, I hadn't noticed the four-inch ledge along the floor at the wall. I tripped, lost my balance and in slow-motion, fell. In Kathy's attempt to help me, she also tripped, lost her balance and fell. We sat there, wedged between the table and the wall, looked at each other, and just began to laugh. Phew, no injuries.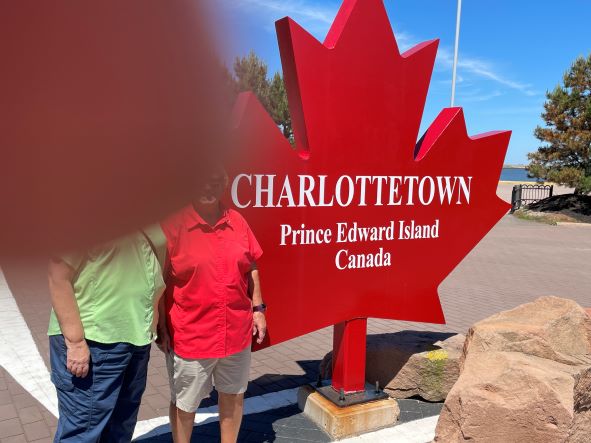 8. When someone offers to take your picture, double check that they know what they're doing. "Have the same phone and I know how it works," he said. "I took two, in case you had your eyes closed in one." Both pictures were identical. Now we'll never know if my eyes were closed.
9. You can walk as much or as little as you want. You can get off at each port, you can sign up for shore excursions, or you can enjoy the view from a lounge chair and read or knit or snooze …
10. Use a travel agent. I'm pretty tech savvy, but this trip became sticky because of the requirements for Canada, and lack of tech support from the cruise line. How I would have loved the support of a travel agent.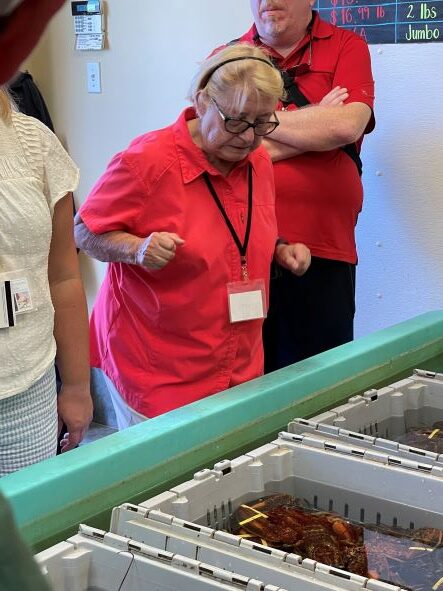 11. Make your own fun, try new things, and eat with different people when you can. I tried mussels for the first time, but couldn't do the oysters. Kathy held her first live lobster which was really funny.
10. Do not book three flights for the trip home, unless there is a new car or a ton of cash as a reward. Montreal to Boston to Atlanta to Phoenix and amazingly, we made each flight, setting personal best times for the Senior Airport Sprint in both Boston and Atlanta. We were two hours late leaving Montreal and Boston, and should have never made the Atlanta flight to Phoenix, but Halleluiah and Praise God, the plane had a flat tire. I looked for Phil from Amazing Race to claim my prize, but settled for getting home as my reward. That's the drama of flying these days.
Boston to Bar Harbor, Maine and Acadia National Park; Halifax, Nova Scotia and the boardwalk; Sydney, NS and the kitchen fiddle music; Charlottetown, Prince Edward Island of Anne of Green Gables fame; Quebec City on Canada Day; onto Montreal. And now home for a month until we escape the heat again. Stay tuned for Part 2.