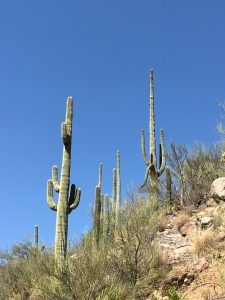 How many times have we been told "but it's a dry heat" when we've heard about the triple digit temperatures of the desert southwest? As if that's supposed to make it less hot. But is it true?
My friend Kathy and I have just returned from an eight day visit to Tucson, Arizona and during that time, they set a record high of 111 for the day after we got there, set a record for most number of days over 100 degrees, and welcomed the monsoon season that brought flash floods and gale-force winds.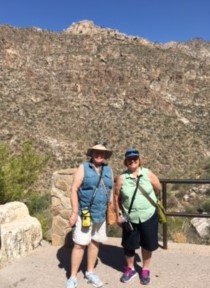 Yet despite the heat, we accomplished everything we wanted to*. Maybe not as fast as we once would have, maybe with an occasional nap in the late afternoon, and maybe with an English muffin and fruit for dinner because we didn't feel like going back out. But frankly, we did just fine.
(* We had hoped to drive up Mt. Lemmon, an area landmark, but due to the nearby fires, the road was closed. Ironically, it was reopened the day we left.)
So what possessed us to go in July, their hottest month? A family occasion? A conference? A tummy tuck in nearby Nogales, Mexico?  All would make sense, but not the case for us.
Instead, it was the convergence of three factors: 1) a city/ region on our list of places to explore, 2) an area we wanted to research for potential relocation, and 3) a "use it or lose it" airline ticket.  I've always maintained if I'm ever going to move some place, I need to see it at its worst, and July is Tucson's.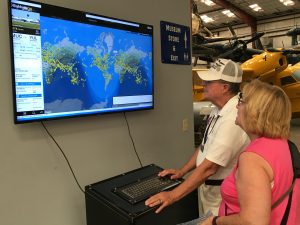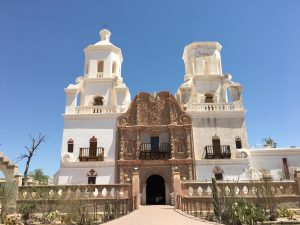 We enjoyed trips to Sabino Canyon, Mission San Xavier Del Bac, and the Pima Air and Space Museum with an extra tour (via motor coach) of the Boneyard – a collection of 4000 old military planes. For a few minutes, I was afraid our guide was going to give us the history of every single plane. Fortunately, he stopped after the first 100 or so. Still… it made me very aware that the only knowledge I had on military aircraft was from the movie, Top Gun.
We were near Biosphere 2 but couldn't tour due to time limits on our part. It's fascinating though and I'd like to go back.
The Tucson area has a very dynamic quilt shop scene. If I made a relocation choice based solely on this criteria, the decision would be made.
Yes, we hit a casino and I'd like to thank the Pascua Yaqui Tribe. No casino owner has ever been that generous to me.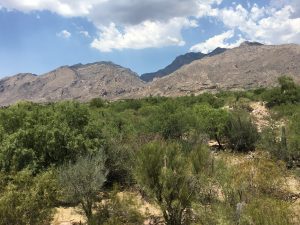 But perhaps the greatest gift Tucson offers is simply its geography. The city is surrounded by mountains and the foothills dotted with the saguaro cactus add so much interest to the area. The retirement communities we looked at – Sun City Oro Valley, Saddlebrooke and Green Valley are all lovely but not for us…yet.
I loved this trip. I found Tucson to be a bit of a sleepy big town, (metro area is over a million) but I think that's because so many people leave during July. It's easy to get around, has great food, a vibrant arts community and a major university.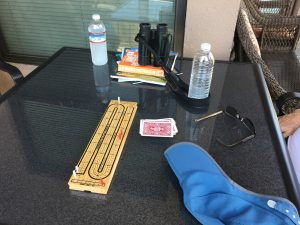 Was it a good time to visit? Rental rates were low, we practically had the pool to ourselves, and there were no lines any place we visited. Was it hot? You bet, yet we enjoyed time every day on our balcony and found ourselves enjoying what the area had to offer.
My conclusion? Yes, a dry heat is far more comfortable than "air that you wear" as a southern friend refers to the humidity in her area. But when we returned, blue skies, pleasant temperatures and flowers at their peak were rolled out like a red carpet saying "welcome home." Tucson was a lovely visit, and I'd do it again, but Michigan is home. (For now.)