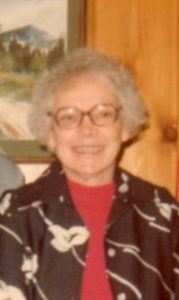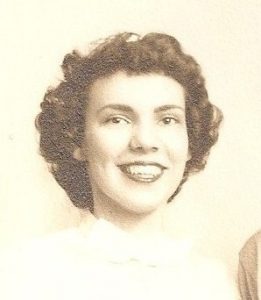 Frances Helen Waid Sievers
b. June 10, 1921  m. July 24, 1943  d. July 19, 1980
Wife, mother of four, grandmother of five.
Spent her first fourteen years in Columbus, Ohio before her family moved to Milwaukee.
A Girl Scout through high school.
Graduated from the University of Wisconsin – Milwaukee, degree in Special Education.
Married her high school sweetheart when he was serving in WW II.
Packed and moved several times throughout southern Wisconsin with her husband and young family as my father settled on a career in education, before making Viroqua, Wisconsin their home for 18 years.
Opened her first business, a sewing and fabric store, in early 1962, above the local auto dealership before she moved it to a main street storefront a few months later. Taught tailoring and hat-making through night school during that period.
Sold the business a few years later when she transitioned to teaching ceramics classes and eventually, opened a small studio.
Loved the arts and museums and never stopped missing city life.
Liked purses that matched her shoes.
Loved gloves that coordinated with her outfits.
Made me new outfits for the first day of school, Christmas and Easter.
Let me operate her cash register and taught me how to make change when I went to her shop after grade school.
Taught me to sew when I was ten, using scraps she'd bring home from her store.
Insisted on hospital corners when we changed the beds.
Didn't care that the vacuum cleaner was heavy,  I still had to vacuum the staircase on Saturday mornings.
Had a simple breakfast of fruit, toast with peanut butter and milk ready for me every morning.
Taught me how to avoid the lumps in gravy.
Made me feel special each birthday with my favorite meal of sloppy joes and angel food cake.
Made sure I left for school early enough to allow time for my dawdling on the mile-long walk during grade school and junior high. (High school was a block away.)
Followed the "sit there until you eat it" parenting model.
Cheered when my brother and I played taps by filling pop bottles with various amounts of water.
Laughed when I wrapped wax paper around a comb and made my own kazoo.
Told me she'd make clothes for me like she made for my sister, when I took care of them as well as my sister took care of hers.
Made a great tater-tot hot dish, but beyond that, was not known for her cooking.
Made sure my brother never ate alone when he came home from sports practices after the rest of us were done eating.
Would not let me attend an important high school football game because I needed to finish a project that was due the following day. Stayed home with me.
Loved to hunker down to watch Perry Mason, Mission: Impossible and The Wild Wild West.
Took me shopping in Madison and Milwaukee for back-to-school clothes in high school, so I didn't have what everyone else bought locally.
Probably took life too seriously at times.
Grew beautiful iris.
Smoked Pall Malls.
You knew it when she meant it.
Faced breast cancer with bravery and courage in 1971. Lost the battle after it returned in 198o.
I'm not sure how I'll honor her memory this Sunday, but I imagine a tear will be shed. It's been a long time. And I'll thank her for all the gifts she gave me.
Happy Mother's Day to all mothers, those with us and those waiting for us.