My love affair with quilting began when I was living in Japan from 2007 – 2010. I had taken my sewing machine with me as I'd sewn since I was 10 years old, and I had the idea that I could incorporate used kimonos into quilts as a way to bring home pieces of the culture I loved. Well, as all quilters can tell you, plans don't always work out as you envisioned. For the most part, the fabric from the kimonos didn't lend themselves to the quilts I'd envisioned. Ultimately, I ended up just using two children's kimonos in small table runners I made.
When I returned to the States, I began taking a quilting class, and from there, I have enjoyed making numerous quilts from queen size bed quilts to bed scarves. Mostly, I make throw size quilts, just large enough to wrap up in during Michigan's long winters.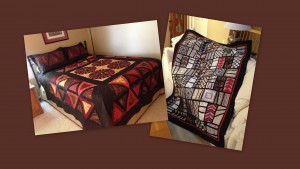 I love working with patterns and prints that have an ethnic design or image.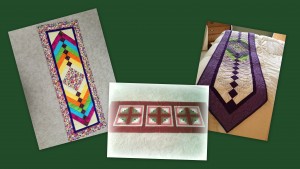 Runners or bed scarves can be made to dress a table or foot of a bed.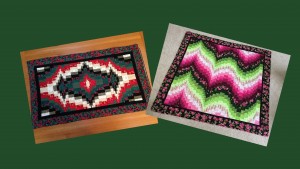 Bargello is made from many strips of fabric to create a wavy appearance.
Like a quilt, this page is a work in progress. Please check back to see the quilts I've added.